Over the past few years, e-commerce has exploded, and the number of e-commerce platforms has grown to meet the demand. Two of the most popular choices in the market for many business owners and entrepreneurs large and small are Shopify and Etsy.
Both platforms offer an array of tools to help new businesses launch their online store or expand their current brick-and-mortar business. Before you dive in and get started with either platform, it's important to understand which platform is best suited for the needs and size of your business. In this article, we will compare Shopify and Etsy to determine which e-commerce solution might be best for your business needs.
Shopify Key Takeaways

Pricing
Starts at $39 per month
Shopify is a cloud-based, multichannel eCommerce platform that helps merchants sell online, in-store, and everywhere in between. The platform allows merchants to easily create an online store, manage products and inventory, process payments, ship orders, and includes a great variety of powerful tools and add-ons to build your store.
Shopify Pros and Cons
A huge variety of themes, add-ons, and apps makes it easy to customize and extend your store.
Multiple customer support options (email, live chat, and via phone for some plans).
Multiple product types are available to sell including physical items, digital items, NFT's and more.
Pricing: You'll pay a flat rate for Shopify each month, in addition to a small percentage of each sale if using the Shopify credit card processor to accept payments.
Poor blogging support. If you're looking to host a blog, you'll have limited blog features to work with.
Limited reporting capabilities on the basic and starter plans
Etsy Key Takeaways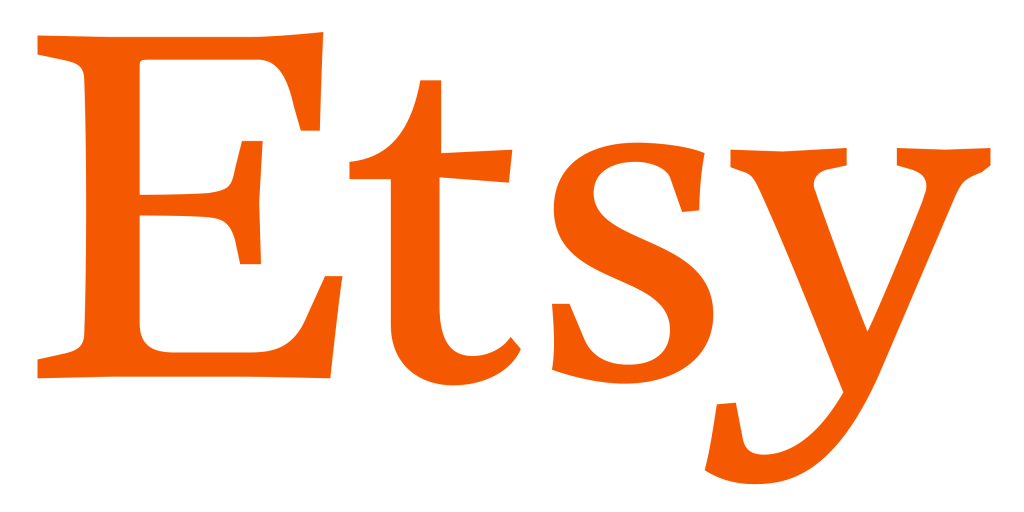 Pricing
Etsy Plus: $10 per month
Etsy is an online marketplace where people can buy and sell handmade or vintage items, as well as art, craft supplies, and unique factory-manufactured items. It is a popular platform for shoppers looking for unique and one-of-a-kind items they would not find elsewhere online, but rather at a physical marketplace, or curio shop.
Etsy Pros and Cons
Limited customization options mean it's super easy to set up your shop/storefront
Etsy is an established and recognized brand, and you can benefit from the millions of daily visitors that come to the site
Low fees are great for selling a handful of products, and there are no monthly subscription fees (unless you're using Etsy Plus)
Limitations exist on what types of products are allowed to be listed on the platform
Poor customer/brand loyalty. It's much more difficult to build your brand when you're selling on Etsy and don't have a fully branded store
High competition. Millions of sellers are competing on Etsy, and it's difficult to make your products stand out
Should I use Shopify or Etsy?
If you run a small business with a few handmade or craft products, Etsy offers immense value. The small monthly subscription fee and ease of use make it a good option should you only need to list a few items for sale. There are good integration options and data analytics, as well as the benefit of social media integration that could boost sales.
Shopify offers more advanced options, and if the intention is to scale your business, list more products, and run advanced marketing campaigns with third-party applications, then Shopify is the clear option from a practicality and cost perspective. It is worth noting that you can integrate Etsy with your Shopify store, accessing the best of both worlds. The options of customer support also add value for those who run a business that moves a lot of products.
If you're rapidly growing your business and could benefit from additional funds to purchase products in bulk or prepare for a large sale, Shopify also offers certain merchants access to Shopify Capital, which is a business loan program. Etsy does not have a comparable program and Etsy sellers will need to seek external funding if they require funds to grow their business.
Similarities between the platforms
Although the differences between target market and customer needs are quite stark, there are a few similarities that should be noted:
Both platforms allow you to create an online store that provides customers with a one-stop online shopping experience;
Both offer options to customize merchant digital shopfront by personalizing themes, logos, and product descriptions;
Both have functionality for shipping, order, management, and payment processing;
Both provide optional marketing tools for SEO and email campaigns;
Both offer support and have a community of established users.
Store Setup and Configuration Comparison
Setting up a Shopify store is straightforward, and the steps outlined in this Shopify setup guide walk you through the process from start to finish. The main difference between setting up a Shopify store vs. an Etsy store is that with Etsy, you aren't required to choose a theme or advanced branding options like on Shopify. The storefront you are creating is really more of a seller profile, similar to what you would see on eBay or other online marketplaces. With Etsy Plus, you can configure some advanced customization options, but nothing comes close to the creative freedom you have with Shopify.
Setting up a store on Etsy is a bit different, and there are a few key differences in the process that are important to call out.
Setting up an Etsy Profile & Listing Your First Product
1. Create an account
A simple process of account and email confirmation to register as a user, before opening your store. Set up the high-level settings for your shop, such as preferred language, the country you wish to sell in as well as the currency you intend to use. They also ask whether the shop is your full-time income or not
2. Name Your Shop
Create your unique shop name with no more than 20 characters. After this has been done, note that you can only change your name once, thereafter you will be stuck with it, so make sure you think long and hard before making a final decision!
3. Create Your Listing
This is the meaty part of the setup. Here you'll need to take some time to create your listing which includes uploading any photos or videos, setting up listing details (such as product name, whether the product is physical or digital, detailed descriptions, etc), inventory and pricing, shipping and anything relating to the operational side of your online business.
4. Setup Payment Settings
Similar to Shopify, Etsy requires you to disclose your tax filing status, and therefore request the nature of your business entity (company, partnership, sole proprietorship, etc). You will also be required to set up your full name, address, date of birth, last four digits of your social security number, and other info to ensure compliance with relevant legislation.
5. Add Credit Card and Open Shop
Your credit card is used to pay any outstanding Etsy fees not automatically deducted from sales funds (insufficient funds), and you would therefore be required to add credit card information to facilitate payments. Once the credit card information has been completed, you will have the option to open your shop.
6. Update Bio and add Shop Policies
Add a brief bio and photos to market the artisan behind the shop. Merchants can showcase their inspiration and motivation and customers can get some background information. Adding Shop Policies is crucial as it defines the processing time, shipping policies, payment options, and your return and exchange policy.
Subscription Pricing and Fees
Shopify offers three different packages ranging from $29 for the Basic Plan (although you can get started with a special promotion for $1/mo for three months if you're a new customer), $79 for the Shopify Plan, and $299 per month for the Advanced option. In order to take advantage of this pricing, you'll need to pay the entire year up front instead of paying monthly.
Shopify fees for online sales start at 2.4% plus 30 cents for the Advanced Shopify Plan, 2.6% plus 30 cents for the Shopify Plan, and 2.9% plus 30 cents for the Basic plan, and does not charge anything for merchant payouts (only third party fees will be applicable if used). For most stores, you'll be able to get by without any issue with the Basic plan, but as your store and business grow and you begin to do many sales per month, the more expensive plans might start to make sense just from a credit card processing rate alone.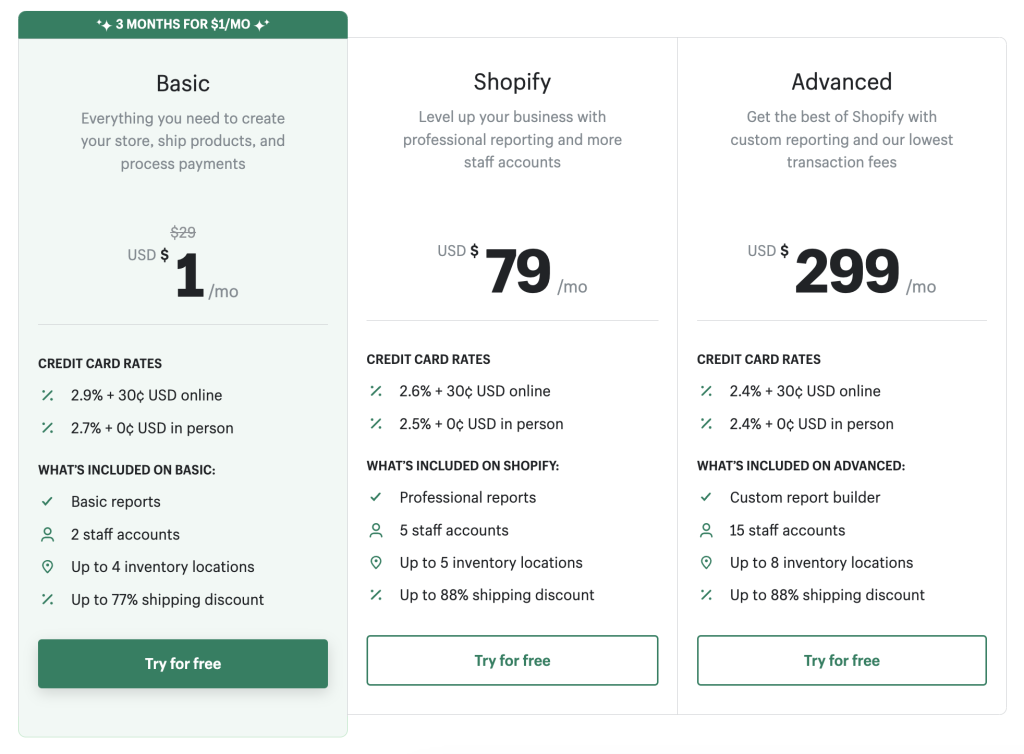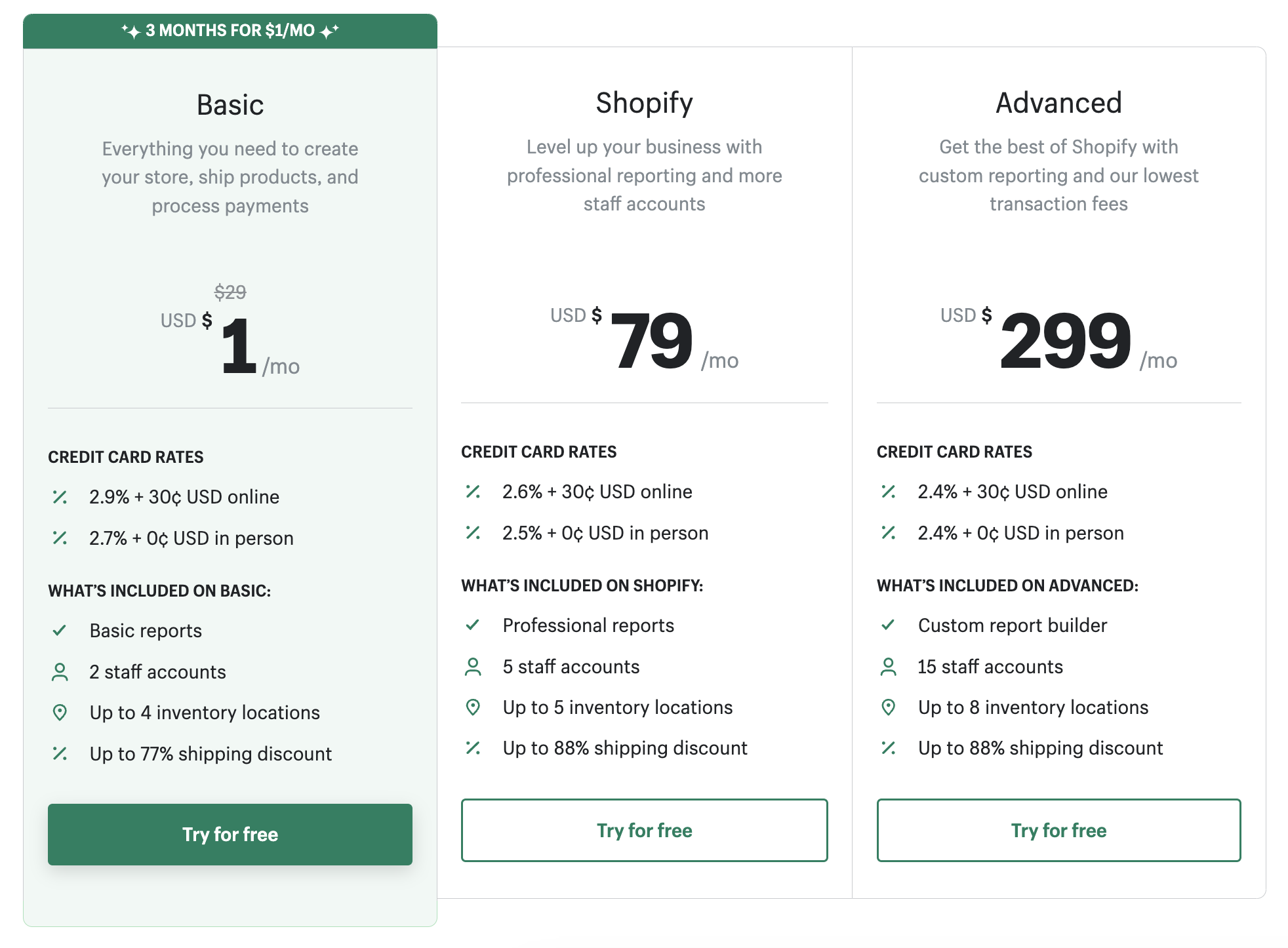 Etsy does charge 20 cents per product made available in your store, which is paid after every four-month renewal. This can get very expensive very quickly if you have hundreds or thousands of products for sale. For each sale, you will also pay a transaction fee of 6.5% of the price listed, besides the amount charged for shipping and adding packaging. Payment processor fees for merchant payouts are 3% plus 25 cents per transaction for US-based sellers (currency fees apply if a conversion to another currency).
Another cost that you'll want to keep in mind for both platforms is the sales tax and excise tax. If you are selling items in a location that collects sales tax, you'll need to collect sales tax payments from the consumer. Excise tax is a bit different, and depends on what you're selling. For more information on sales tax and excise tax, read this guide: Sales Tax vs. Excise Tax – What's the Difference?
Product Listing and Management
Listing Products on Shopify
Once an account has been created and the business information has been imported, the process to upload products is simple. On the Dashboard, select Products and then Create Product. From here you can name a product, and add a description as well as photos or videos of your product.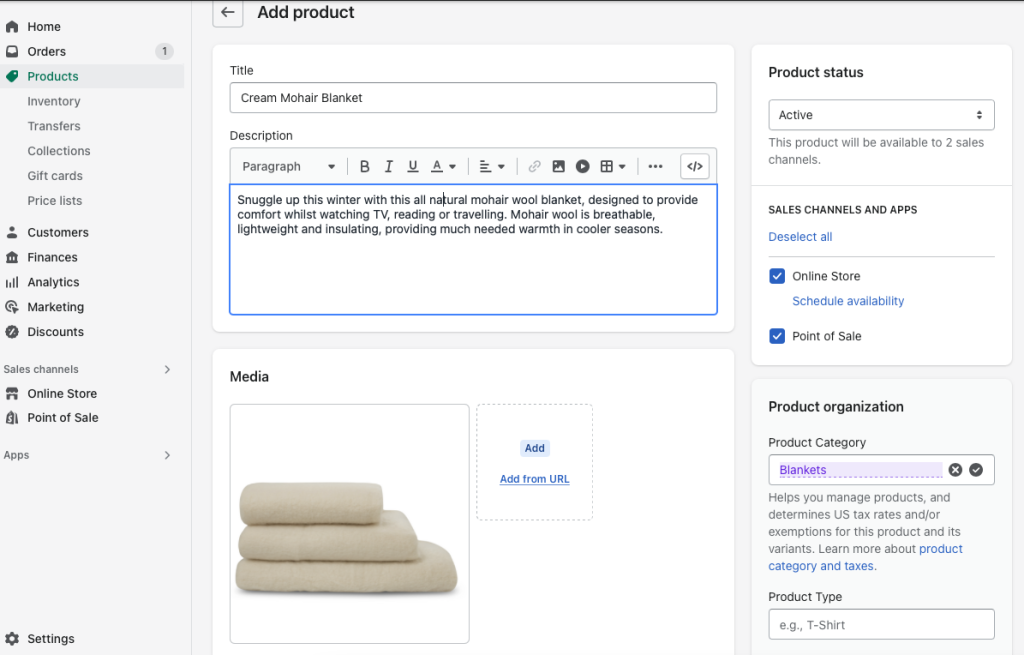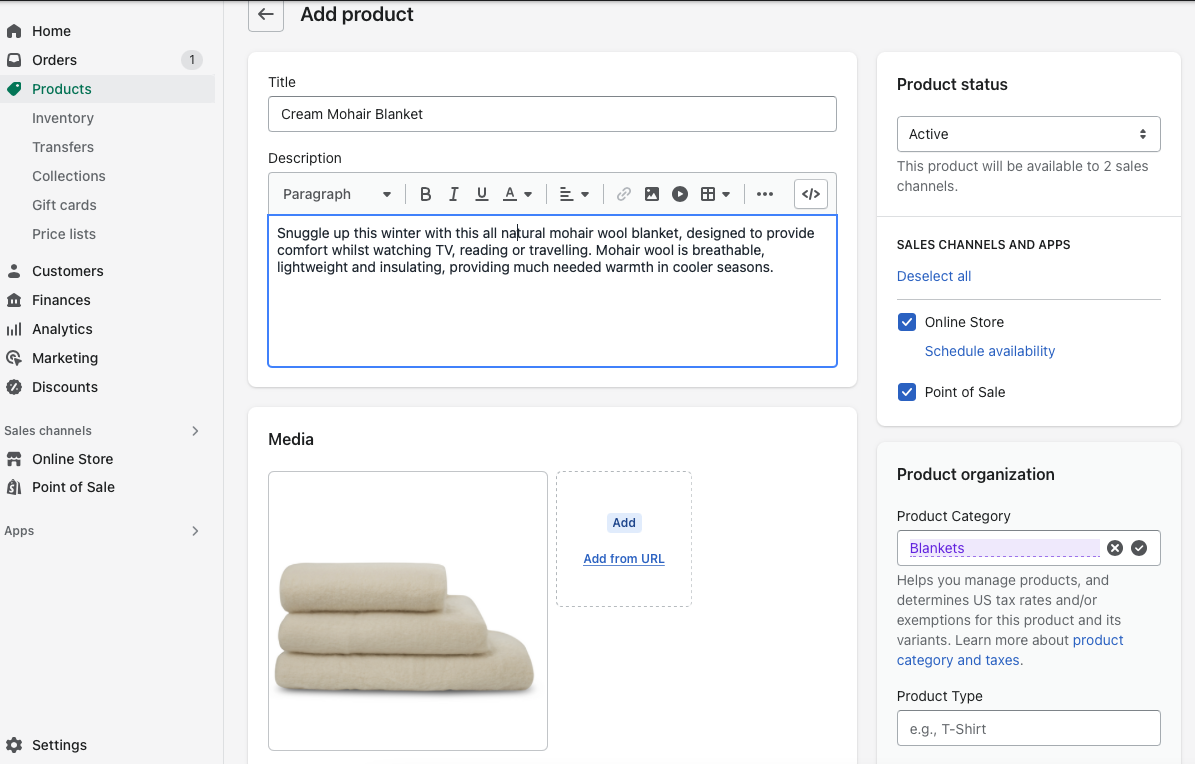 You are also able to set prices, and discounts, see your profit margin (profit margin is not shown publicly), currency, and shipping location, and manage stock and product type. Finally, it's also possible to preview what the google search results would look like should you accept the settings which are handy from an SEO perspective.

Once complete, the product would be added to the product list on your dashboard and you will be able to add and remove products at will.

Listing Products on Etsy
Etsy has a modern looking sleek process to upload products into your store. With a sequential step-by-step process from Shop preferences to Naming your shop and finally Stocking your shop. Stocking your shop is where the most detail is required and similar to Shopify you can use photos, videos, and a text description to market your product.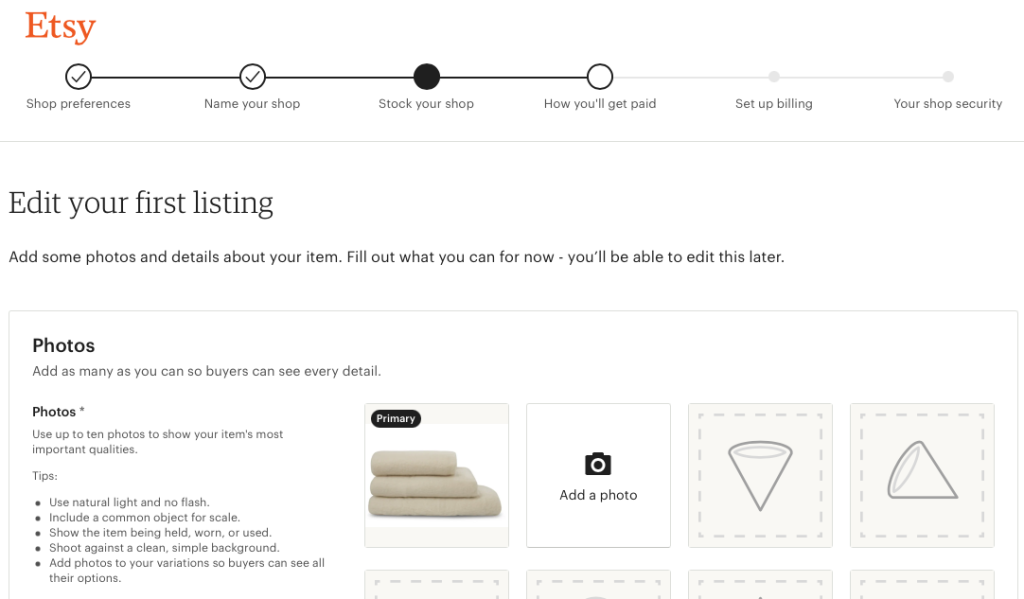 Details include the title, category, material used, colors, size, sustainability, pattern, and techniques all of which can be easily customized.
Once the products have been listed, you will be required to set up your payment options and billing before finalizing. It is worth a reminder that Etsy has a charge per product.
Tools available
Both Shopify and Etsy offer an easy-to-use shop setup with easily manageable product listing and enough description and customizability to enable you to effectively offer your product to the buying public.
Etsy has more configurable listing options that distinguish the products. In the mohair blanket example shown above, Etsy offers customizable options such as bed size, selectable sustainability methods, materials used, pattern, fabric techniques, home style, occasion, and celebration, each specifically applicable to the type of product being sold.
Shopify does not offer as many options for customizability, but the Search Engine Example is a handy tool to see how your product might appear on online searches.
Marketing and Promotion Options
Both Shopify and Etsy have effective tools for marketing your products, depending on what your requirements are, one might be better suited for your purposes.
Etsy marketing tools
Etsy Ads – Etsy's native platform for ad campaigns allows sellers to curate targets and run pay-per-click campaigns to drive traffic to their listings.
Etsy SEO – Etsy's search optimization tool that helps sellers optimize their listing titles and tags for greater visibility.
Etsy Pattern – Etsy's website builder that helps sellers create a website for their business and list products in their online shop.
Social Integration – Etsy has integrated with numerous social media platforms, allowing sellers to directly promote their products through those social channels.
Promoted Listings – A feature that allows sellers to promote their products and listings on Etsy's search results pages.
Shopify marketing tools:
Shopify Ads – Similar to Etsy's Ads, Shopify's native ad platform allows sellers to create targeted campaigns to drive traffic to their online store.
Shopify SEO – A tool that helps sellers optimize their product page titles and tags for greater visibility.
Shopify Apps – Shopify's suite of apps such as Oblero, Bold Subscriptions, Kit, Abandoned Cart Recovery, ReCharge, and many more, help sellers extend their store's reach and sales conversion rates. See our list of the best Shopify apps for your business.
Strategies for effectively marketing a store
Ensure your shop stands out
Utilize the available SEO available on both platforms
Leverage social media integration
Remain focused on customer service
Use targeted ad campaigns
Run a contest or giveaway
Customer Support and Service
Shopify boasts 24/7 customer support by live chat, phone, and email and also has a forum for community assistance and video tutorials for some general solutions. Shopify offers advanced specialist support for those merchants on the Plus plan.
Etsy offers chat, phone, and email support, but only has email support for most concerns. In addition to the usual support, you can also join a forum and read community discussions to find a potential solution for your problem. Compared to Shopify, Etsy's assistance and support service do not compete, so if you're looking for additional support and assistance, it's best to stick with Shopify if you think you'll need a helping hand.
Factors to consider before choosing when choosing a platform
Response Time – How quickly do you require a response to issues? Shopify has a faster response time because customer support is chat and voice support.
Cost – Although Shopify has better support, it does come at a cost.
Communication – What type of support do you require? If email support would suffice, Etsy's offering will do.
Integrations and Add-Ons
Integrations and add-ons available on both platforms
Shopify is known for its expansive list of integration options with an array of third-party services that could be used in conjunction with the Shopify platform. Whether you require account software, email marketing, payment gateways, shipping solutions, analytics tools, customer service expansion, and many more, Shopify has a solution. Popular integrations include MailChimp, PayPal, Zapier, Google Analytics, Zero accounting, Quickbooks, and more.
Etsy on the other hand does not offer such a wide array of integrations, but you can expect to find fundamental integrations such as Google Ads, MailChimp, AfterShip, ShipStation, etc.
Etsy is not a traditional e-commerce website, but more a marketplace where you sell a few custom items. For a full-fledged e-commerce solution with more advanced features, Shopify might be your best bet.
Benefits of using integrations on Etsy
Integrations with websites such as PayPal can simplify the process of a customer purchasing items.
Social media integrations are a wonderful way to promote products and increase your overall sales (e.g sharing new listings and recent milestones on your Facebook page directly from the Social Media section of your shop).
Integrations with third-party apps can help automate processes such as stock taking and inventory, or communications with the end customer.
Drawbacks of using integrations on Etsy
Adding integrations to your Etsy shop can add unwanted complexity to your platform, which could complicate matters for beginners.
Sometimes challenging to set up and maintain.
More integrations mean more third-party fees, which could become expensive
Could potentially affect the speed your site operates and processes orders.
Benefits of using integrations on Shopify
Increased efficiency allowing you to streamline and automate processes (e.g MailChimp triggers for cart abandonment)
Improve your customer experience with personalized and engaging customization.
Improve data collection.
Scalability improves by integrating tools for business growth and marketing.
Etsy can be integrated with your Shopify account.
Drawbacks of using integrations on Shopify
Similar drawbacks to Etsy in terms of increased complexity and cost.
Security risks as third-party services may not be as secure as Shopify itself.
Ironically, also a benefit of using integrations could be the cause of a lack of customizability. The use of third-party software might limit the extensive features featured on the Shopify native app.
Shopify vs. Etsy: Conclusion
Key points
Store setup for both platforms is an easy process even for beginners who aren't as tech-savvy.
Shopify has a monthly subscription price that might seem like a lot, but Etsy does catch up rather quickly with higher % transaction fees per product.
Loading products is a simple step-by-step process on both platforms, but Etsy provides a few additional options for product tags and identification.
Both platforms offer advanced marketing solutions but it is Shopify with its Shopify Ads and many Shopify Apps that makes it easy for users to create marketing campaigns
Depending on your needs, Shopify offers somewhat more from a customer support perspective compared to Etsy which only offers support via email
Shopify has a host of optional integrations and add-ons that could benefit your business, but it will come at a cost and might negatively influence your user experience.