As a business owner, you know how important it is to stand out from the crowd and increase your visibility in the marketplace. Shopify, one of the world's most popular eCommerce platforms, offers an abundance of tools and integrations that could make your business marketing and growth as simple as possible. Haven't set up a Shopify store yet? No problem – check out this guide to create a Shopify store in 30 minutes or less!
You have just created your store, now you're probably wondering what Shopify apps would be best suited for your business. In this article, we will explore the best Shopify apps to drive more sales, reach a bigger audience, and grow your business online.
What are Shopify Apps?
Shopify Apps are add-on tools and services that you can use in your Shopify store to extend its functionality. In other words, they can assist merchants like yourself to manage their stores, customize the look and feel of the stores, add marketing and advertising functionality, and much more. Chances are if you're looking for functionality in the Shopify platform that you don't see, a Shopify app exists that will solve your problem!
Facebook and Instagram 
As some of the most used social media platforms, it comes as no surprise that most businesses opt to include Facebook and Instagram marketing as part of their marketing strategies. With just a few clicks from your Shopify shop, you can start promoting your products on Facebook and reach individuals who are most likely to be interested in your products.
Customers can review products, enquire about a specific product feature or engage other users about your product. With Meta investing heavily in features that allow users to purchase products without having to leave their platforms, Facebook and Instagram have become an imperative part of selling products online.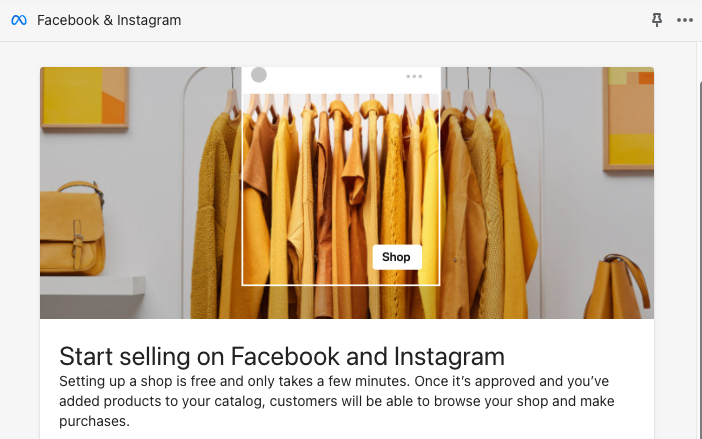 Key Features
Facebook and Instagram Ads – Create and manage your Facebook and Instagram marketing campaigns straight from your Shopify shop with the ability to target specific customers.
Performance Data – Meta platforms provide extensive data that improves campaign performance and optimizes conversion to sales.
Other Apps linked to Facebook – Once you have integrated your Facebook and Shopify profiles there are various options to enhance your online shop such as Facebook Like Discounts which, as the name suggests, offers discounts for likes on your profile, as well as Facebook Messenger connecting directly with your Shopify inbox.
Pricing
There is no charge for Facebook and Instagram app integration, but Facebook and Instagram Ads carry a separate charge.
For Facebook, the advertiser sets the budget and the bid, but research suggests you should expect to pay around $0.94 per click or $12.07 per 1000 impressions. For Instagram, it costs closer to $0.20 to $2, per click, depending on the advertising model.
TikTok 
Trendsetting TikTok has risen dramatically in popularity over the past few years. With the majority of users between the ages of 16 and 34, TikTok has quickly become a place where user trends, particularly trends for a younger market, can blow up overnight. Positioning your Shopify store in front of this audience is your best shot at going viral!
With the TikTok App for Shopify, you can connect your product catalog, build compelling creatives, run TikTok ads, and track performance all from your Shopify account.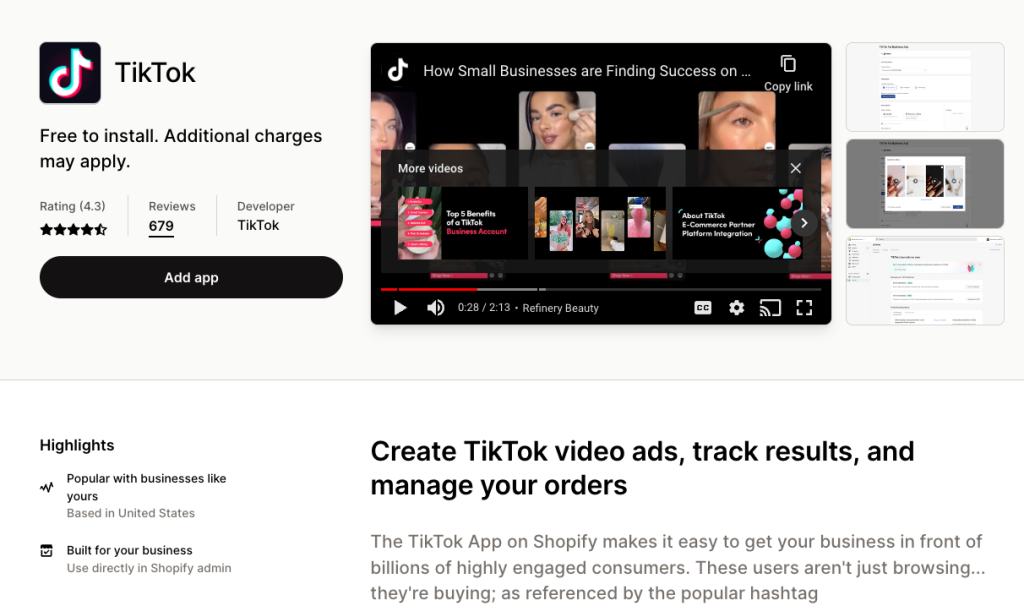 Key Features
Social Shopping – This feature allows users to shop directly from their favorite influencers' accounts.
Seamless Payment Process – Shopify's integration with TikTok ensures a secure payment solution so that customers can make purchases from your shop with peace of mind.
Product Synchronization – You can directly sync products from your shop to your TikTok page and create high-performing ads to promote your best products.
Pricing
TikTok is free to install on Shopify and any marketing costs are charged to your TikTok account. Although there is no definitive pricing schedule, on average it works out at around $1 cost-per-click. There is also a minimum spend of $500 for all TikTok campaigns.
Recharge Subscriptions 
If you are in the business of selling a product people enjoy consuming (e.g coffee or health supplements), chances are you might receive regular returning customers that purchase the same product once they run out. Recharge Subscriptions is an app used to add the option for subscription sales on your Shopify shop. the Recharge Subscriptions app allows seamless payment, delivery, and stock management of repeat sales without the customer having to manually purchase or you having to log the sale on a recurring basis.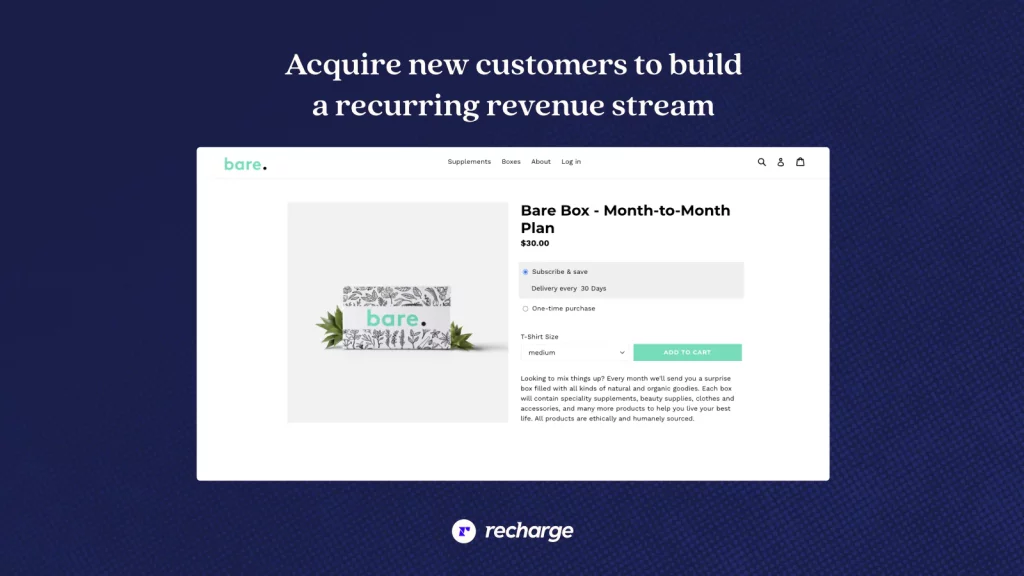 Key Features
Bundles – This feature allows you to bundle products to create a "build-you-own-box" experience whereby various products or types could be added and sold as one Stock-Keeping unit (SKU). (See also: What is an SKU?)
Frequency – When creating your subscription rules, you can expand on the choices for order schedules, allowing the customer to set the frequency of the subscription.
Shopify Payment Integration – Integrates seamlessly with Shopify pay, meaning everything from the recurring order to the payment is taken care of.
Pricing
There are three pricing tiers; Standard which is a free version, but a 1% + 10 cents per transaction fee is charged, Pro which costs $499/month including a 1% + 19 cent transaction fee (unlocks the full potential with actionable insights and advanced customization), and finally a custom package that allows you to tailor your plan to your needs.
Infinite Options
Is your plan to offer a variety of product options and functions? Infinite Options will allow store owners to create an almost unlimited number of custom product options in their store. This is a great tool for businesses that have a lot of product variation, as it will allow them to create a more efficient and streamlined ordering process. Customers also have more control over their purchases with the option of customizing their orders and selecting from a wide range of options without having to reach out to you directly and specify the type of product they are looking for.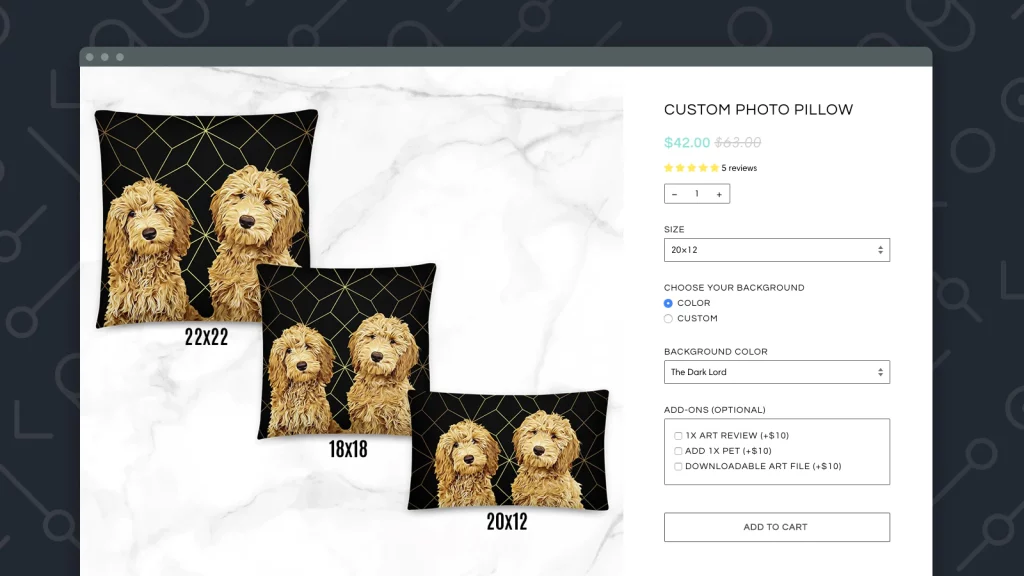 Key Features
Infinite Product Options – There is no limit to the number of custom fields for products you can create, including numbers, text, calendars, checkboxes, and dropdown menus.
Customize Swatches – Allows shoppers to customize products with engravings, monograms, bespoke printing, etc.
Multiple Image Support – Images for each product option can be uploaded, making it easier for customers to view the choices available to them.
Pricing
The Infinite Options app costs $9.99 /month from the app store but there is a 14-day free trial if you wish to test the application before purchasing a subscription.
Klaviyo
Klaviyo is a wonderful eCommerce automation tool that allows merchants to create visually appealing, interactive marketing that captures your customer's attention. The Klayvio app integration with Shopify allows you to create a hyper-targeted campaign directed at the customers who have abandoned their carts, by way of an abandoned cart flow. 
But hold on a second – what is an abandoned cart flow? An abandoned cart flow is a sequence of messages sent to a customer who has added items to a shopping cart but left without completing the purchase. This can be done with a simple message reminder or a discount coupon if you want to remind customers that they have items left in their cart.
Key Features
Drag-and-drop email building – a simple-to-use email builder that allows users to create engaging emails.
Marketing Automation – reminders for cart abandonment, browse abandonment, and post-purchase messages of thanks which increase sales.
Marketing Channels – Includes several channels in addition to email marketing such as SMS, popups, and social media marketing.
Pricing
Klaviyo offers a free version that includes 500 monthly emails, a built-in customer data platform, 150 free SMS credits, and email support for the first 60 days. The next option starts at $45/month that allows 1,001-1,500 contacts, 15,000 monthly email sends, and email and chat support. And finally, there is a variable cost of between $45/month and $5,780/month depending on the number of contacts you have and the monthly SMS credits you need. 
NestDesk
NestDesk is a handy tool that provides a centralized place for customer messages, responses, and direct sales. The app can help Shopify merchants streamline their operations by centralizing their Facebook Messenger and Live chat inboxes, creating orders, and facilitating payments all while chatting with customers. In other words, NestDesk can turn a simple customer service interaction into a sales event all within one easy-to-use dashboard.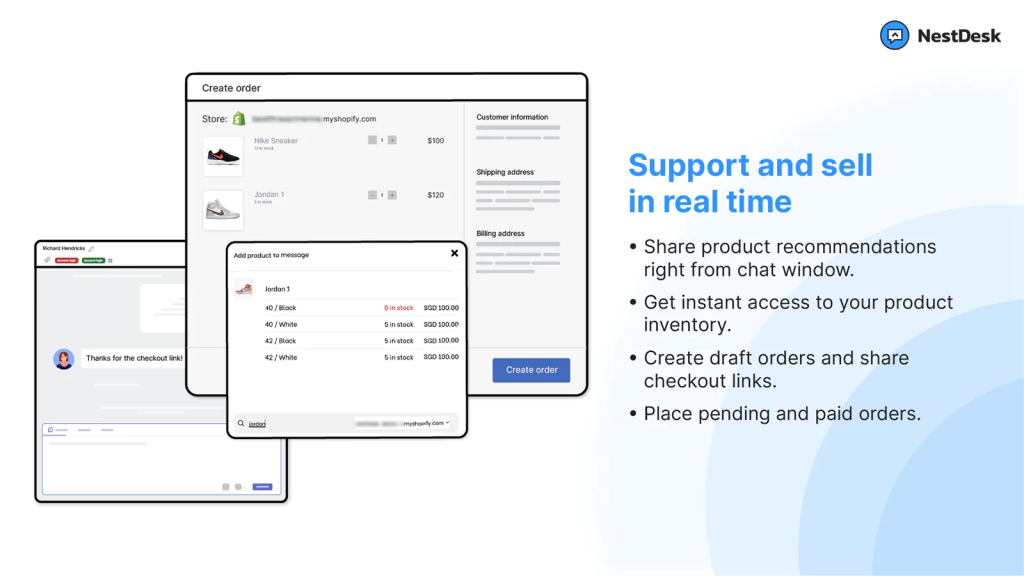 Key Features
Respond to customers quickly – with the use of macros, private notes, and tags.
Revenue Tracking – measure revenue and track the performance of your store with smart filters.
Sales from Conversations – convert interactions into sales, by shortening the buying process and creating orders directly from the chat portal.
Pricing
NestDesk is free and does not take any commission from orders created in the app.
Simple Affiliate
Using the Simple Affiliate app for Shopify, retailers, and particularly influencers who manage their own Shopify shops can design and effectively control their affiliate networks. Merchants may use the plugin to track affiliate sales and commissions, manage affiliates, and provide each affiliate their own set of links and banners promoting certain products. Additionally, it provides functions like tracking, reporting, and interaction with other applications such as Tiktok.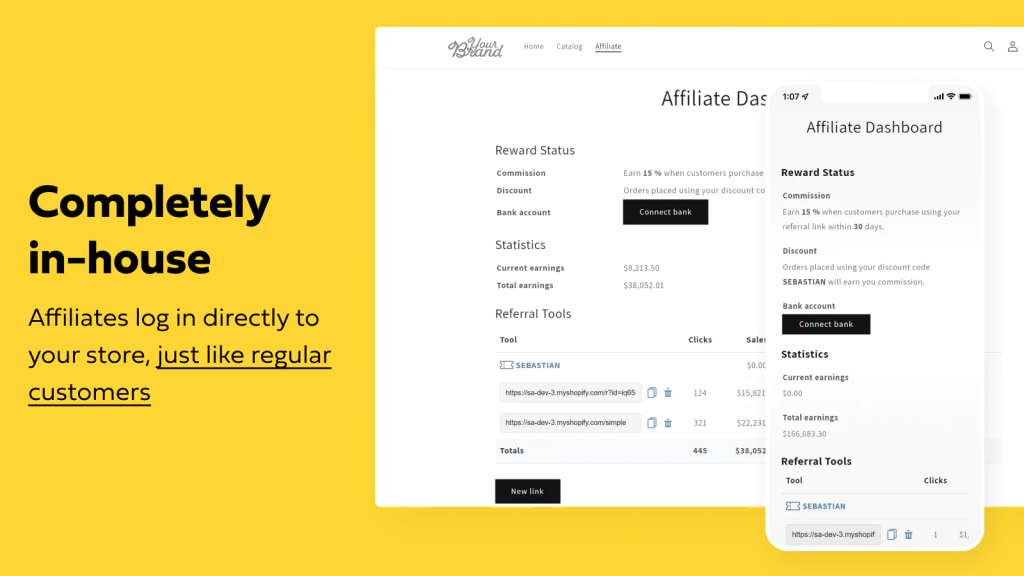 Features 
Track Sales of affiliates – Track the sales of influencers and reward them based on their performance.
Automated payment – Simple Affiliate automatically processes payments to affiliates.
Custom commission – Set different commission rates for each affiliate so that you can tailor your commission structure to your needs.
Pricing
The Basic package starts at $14/month and includes auto-pay, unlimited affiliates & referrals, spam prevention, and live chat support. Pro costs $29/month which allows referral tracking and discount codes, or $69/month which gives you access to product variant commissions, reduced auto-pay fees, and priority support. 
Product Reviews
Customers love to see what other buyers have to say about your products, and the best way to do this is through the Product Reviews app. According to a report by eMarketer, 98% of all consumers look for product reviews before making a purchase – so it's a great idea to give your customers the ability to leave a review!
The Product Reviews app is a free app which allows your customers to do just that – and it's shown at the bottom of every product. The best way to encourage customers to leave a positive review is through an email marketing campaign through a platform like Mailchimp. After a customer makes a purchase on your store, you can set up an automated email campaign to be sent to the customer asking them for a review. Including a discount code for their next purchase is a great incentive.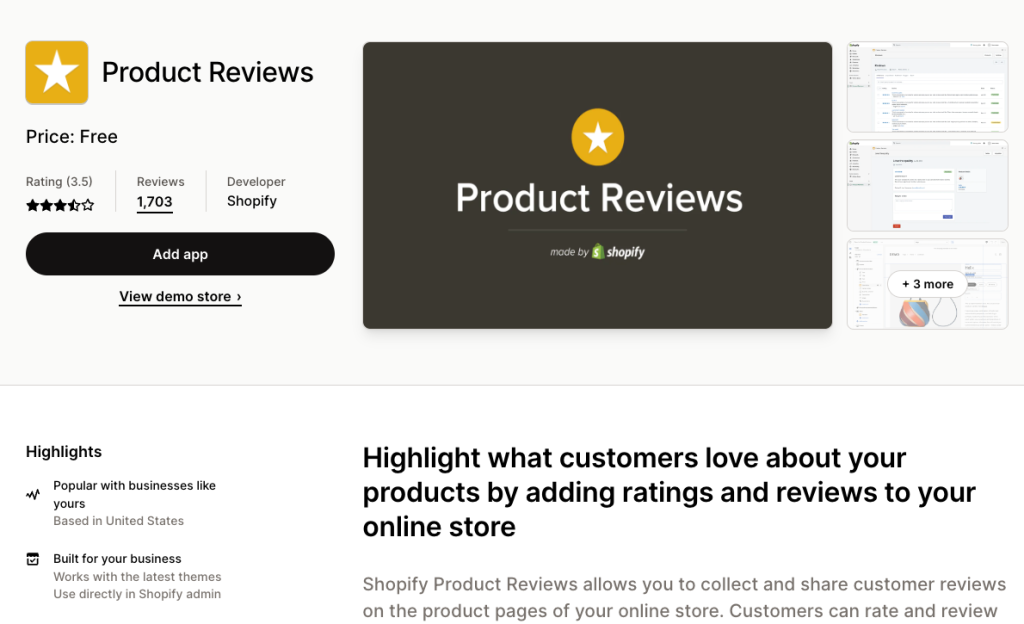 Key Features:
Easily give customers the ability to leave product reviews
Allows you to approve each review before being published
Combine this app with a marketing campaign to increase the likelihood of a customer leaving a review!
Pricing: The Product Reviews app is free for all stores
This is a roundup of the best Shopify apps we've come across. Think we're missing an app? Leave a comment below with a suggestion and we might consider adding it to this list!