Shopify and Squarespace are both very powerful website platforms that are used by millions of people worldwide. In this comparison, we are going to examine the pros and cons of each website builder in comparison to each other. The main benefit that users will find when comparing the two services is that Shopify was built primarily just for selling products, whereas Squarespace aims to make itself the all-in-one website builder for individual portfolios, resumes, as well as small stores and blogs. It's not quite fair to compare the features of the Squarespace e-commerce platform to that of Shopify, because Shopify was built just for selling products online, but nonetheless, lets take a look at the benefits of each of them:
One important question to ask yourself before you choose either of these platforms is do you want to build a website to sell products or just a website in general? If you are only trying to build a website where you have no products to sell, you have no need to use Shopify, so I'd recommend not even getting involved with the Shopify platform and instead look at the other website builders. If you're looking to make a website or blog from scratch and don't want to specifically use Squarespace, check out the build a website from scratch guide. If you're looking for a complete review of the Shopify platform itself, take a look at our Review of Shopify from an actual customer here.
Customization Options:
Just to name a few features right off the bat – Shopify allows you to modify:
Colors, Fonts, Themes, Plugins
CSS/HTML with built-in editor
Layout of modules
Categories of Products, Collections, Tags for products
Photos using a built in editor (Aviary) for making your product photos look better
Built in SEO for product visibility in search engines
If you're more advanced you can also setup domain prefixes
Squarespace allows you to modify:
CSS/HTML with built-in editor
Colors of buttons, text, layout and extras
Pre-Built layouts (Grid, List, Carousel, and Wall)
Font + Style (limited)
As you can see, Shopify caters more towards the selling of products compared to the publishing on blog posts and website content. While Shopify does have a built in blogging feature, it is limited in features and doesn't have near the capabilities of a blogging platform like WordPress.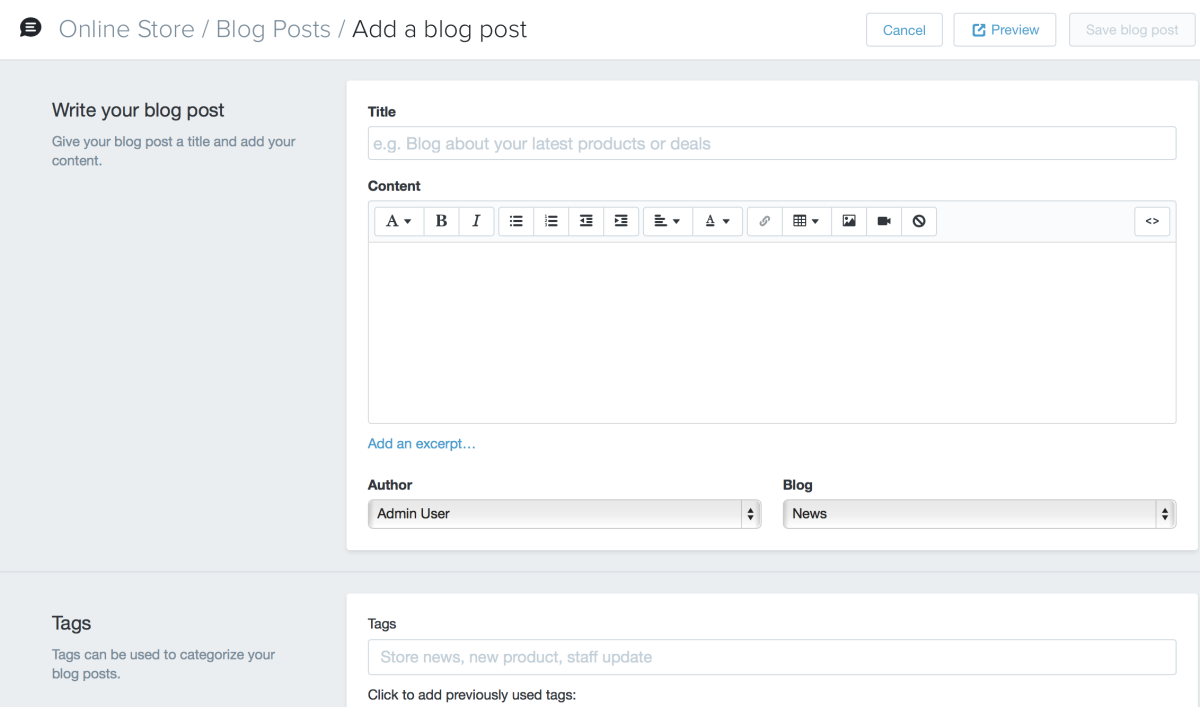 Pricing and Costs
Shopify Pricing and Costs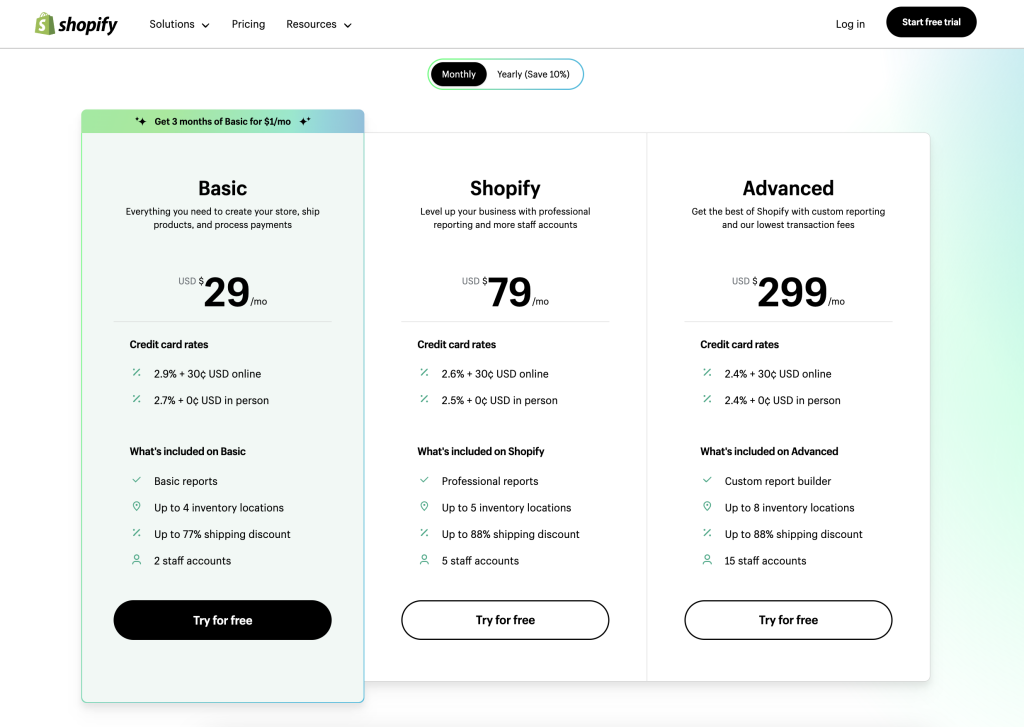 Shopify has four different pricing tiers, and an additional pricing tier for professional sellers. If you aren't a huge business with millions of sales each year, you won't need to worry about the professional tier. Shopify comes with a free 3 day trial (and three months for $1), so you can try it before you purchase a monthly payment plan.
As you can see, there's something for every type of seller at Shopify. Whether you're a mom-and-pop store or a huge multinational corporation, Shopify can support your sales and traffic (as long as you're willing to pay the monthly cost and Credit Card transaction fees). Another really cool feature is the Shopify POS system, an iPad with software installed that lets sellers with a physical brick and mortar store accept payments inside the store itself on the POS system. You can even let your customers browse your entire inventory right from the device and swipe to make a purchase. The fees for using this device are cheaper than buy strictly online. You can watch the full demo video here if you want more info about the Shopify POS feature.
Squarespace Pricing and Costs
Squarespace also has their pricing tiers, which are more geared towards the everyday blogger or portfolio user, but does offer e-commerce support for stores and online businesses.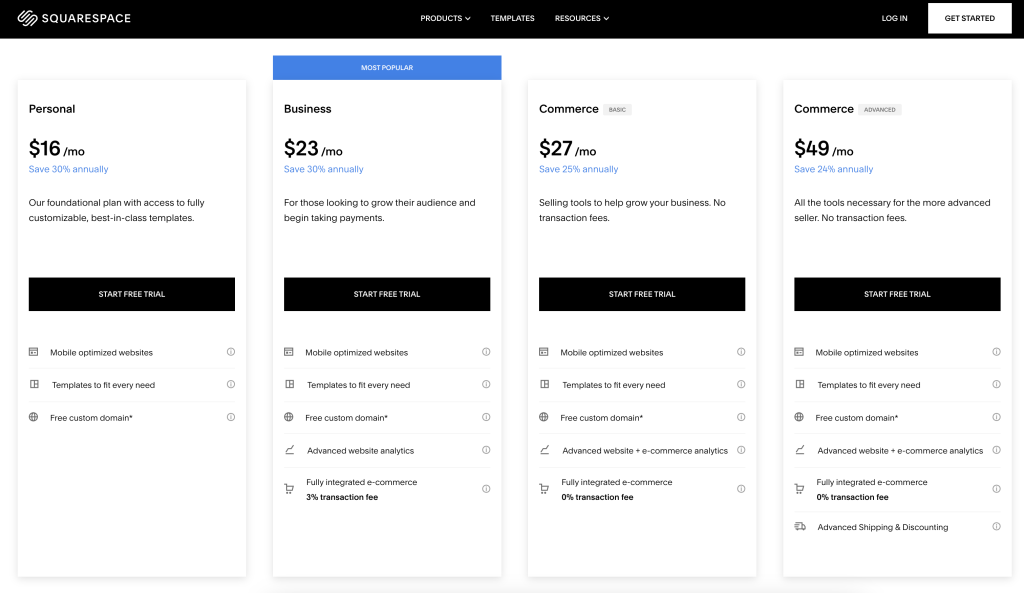 Payment Gateways and Transaction Fees
When you're thinking about which service to sell your products online, you should also be aware of the credit card transaction fees that both Shopify and Squarespace charge. As you can see in the pricing tier above, Shopify charges anywhere from 2.4% – 2.9% per transaction (plus a few cents depending on your seller plan) every time a customer on your website makes a purchase. Squarespace, on the other hand, does not directly charge you a transaction fee, but Stripe, the payment processor, charges a fee of 2.9% + 30c per transaction depending on your location. These fees can add up quickly, and they are important to consider if you are going to open up a business selling items with a small profit margin – keep these fees in mind.
If you're selling products to multiple countries, make sure you do your research. Shopify has a number of payment gateways which enable customers from all over the world to make payments and use their credit cards, but Squarespace only uses Stripe, which is not supported in some countries. If you do plan on using Squarespace to sell products, make sure that the countries you are selling to are compatible with Stripe, otherwise you won't be able to accept payments. If you're using Shopify, you don't need to worry about this.
Templates and Plugins
Squarespace has beautiful templates, they are ready to use and come with most of the features you would expect – including responsive design so that they look great on any device you use, including an iPhone or tablet. While the templates look great, they are limited in number compared to Shopify, which allows third party designers to create their own templates and sell on the shopify template store. The ability for third party developers to create their own custom templates means you'll have a much larger selection to choose from, and also the ability to stand out a bit more in terms of originality.
When it comes to plugins – Shopify takes the cake. Their plugin library is constantly growing and has some amazing free and paid plugins that can really take your store to the next level. For example, a popular plugin I use all the time is Shopify Reviews (it's free, and Shopify made it). The Shopify reviews plugin makes it easy for customers to leave a review of your product on your store. You can manually go and approve each comment, or allow comments to be posted immediately once submitted by the user. This is just an example of a plugin that is available, there are hundreds of plugins, ranging from reporting tools to support chat integration, to advanced SEO for your Shopify store. Shopify also makes it easy to install these plugins, with a 1-click install, the plugin can be installed on your store and you just need to configure the settings to your liking before it is available for use. Squarespace has no official plugin directory – there are a few companies that offer Squarespace plugins, but you need to integrate them yourself into your website, and most of them cost money. You can visit the Squarespace answers forum for help with installing these plugins, but for the most part you're on your own when it comes to installing any of them.
Support and Customer Service
Shopify has a great customer support network. You can reach them 24/7 by phone, email, and chat – most of the time the wait is only a few minutes. In addition, Shopify gives you access to a wide range of tutorials, guides, and video walkthroughs of how to do most actions on your website, including guides on how to add products, how to customize your theme, as well as many others. Shopify also has a forum where you can ask for help from the community.
Here's some links for the Shopify support options: Shopify Customer Support | Shopify Forums | Shopify Guides
Squarespace does offer all the same types of support besides phone. This is kind of a huge negative for me and you can call me old fashioned, but when I have a problem I really just want to talk to a person on the phone. Squarespace also has a forums area where you can get help with some of the more advanced options on Squarespace, and also has a guides area where you can read up on how to make changes to your website.
Links to the Squarespace support options: Squarespace Customer Support | Squarespace Forums | Squarespace Guides
Shopify Pros and Cons
Pros
Payment gateway options makes it easy to accept payments from nearly every country in the world
Support is fast, easy, and always free – the video guides and support documents are also very well written
SEO on your site is built in and you have the ability to install additional SEO plugins if you want to improve your SEO even more
Huge (1000+) plugin library means that you'll always find a neat and useful addition to your store
Third-party theme designers ensure that you can pick a style that is right for you
Shopify experts are available for hire so that you can pay someone to do the work on your website
Free 3-day trial before you buy any of their plans
Cons
Pricier than Squarespace when it comes to the payment plans
Shopify support is limited in what they can help you with if you are trying to modify a custom built theme for your store
Shopify charges a fee on each sale in addition to the credit card transaction fee
Squarespace Pros and Cons
Pros
Access to 40 million high quality photos courtesy of Getty Images
Free custom URL and email address when you purchase a year long plan
Icon library makes it easy for you to design a simple custom logo
Free visitor insights to see how visitors are getting to your site
Beautiful free templates and designs
Cons
Editing your website can get overwhelming if you are new to website editors
No phone support
Limited payment options mean not all countries are able to purchase your products
Add-ons are limited and usually not free (most are from third parties)
Conclusion
If you're a person who just wants a blog or a website to sell a few products here and there, and you will only be selling to customers within the United States, use Squarespace. Squarespace is also great for personal portfolios and resumes, and the features they have will make your website look professional even if it only takes you a short amount of time. If you are an entrepreneur or a person who wants to seriously consider selling products online, use Shopify. Shopify has all the tools you need to be successful with your online business, and has the support to help you with each step along the way.