As a business owner, you know how important it is to have access to capital to grow your new or existing business. You may have heard of options such as Shopify Capital, but what is it, how does it work, and what does it offer you and your business? In this article, we will discuss what small business owners need to know about Shopify Capital and provide a brief overview of the various financing options so that you can make an informed decision before applying.
Introduction to Shopify Capital
Shopify Capital is a financing solution offered by Shopify that enables eligible merchants to receive cash advances to help grow their businesses. Usually, over several months, these advances are repaid using a portion of your upcoming sales. Access to other finance alternatives like business loans and credit lines is also possible through Shopify Capital.
Pros and Cons of Shopify Capital
Shopify Capital Pros
Convenient and fast – application and repayment are done on the Shopify website directly from your admin console, which makes the process uncomplicated without having to involve external platforms or third parties.
Relatively competitive rates – Shopify offers competitive interest rates making it a cost-effective option.
Fast/easy application process – once you receive the invitation to apply for funding, the process is as simple as completing a few forms. No need to deal with banks and lenders.
No collateral – As opposed to other financing options, Shopify requires no collateral. This means less risk and exposure for your business.
Shopify Capital Cons 
Limited Availability – currently only available in a few countries (i.e USA, Canada UK)
Long wait times – applications can take up to two weeks
Unclear eligibility criteria – Only a few criteria as mentioned earlier are specified. Shopify only tells you if you are eligible or not, which means you can not address your eligibility once funding has been declined.
Deductions from sales revenue – The repayment method can be quite taxing if you are a new business owner, or require capital elsewhere (such as product development or working capital).
Key Takeaway: Shopify Capital is best for established Shopify stores that require loans to grow their already successful online business. Stores that are struggling, don't have many sales, or have existing debt may struggle to qualify for Shopify Capital or have difficulties paying back the loan. You should always consult a finance or tax professional before taking on the risk and responsibility of any business loan.
How does Shopify Capital work?
Only users of Shopify can qualify for funding. When your account qualifies for funding, an email will be sent to the store owner associated with your Shopify store. 
Once you have been notified, you will be invited to submit a funding application after the platform determines company eligibility. Three offers are presented to merchants for selection. An email will be sent confirming your eligibility or approval for funding, whereafter an offer must be accepted within 30 days. If the offer is not taken up, it is canceled and you would have to wait until the business is sent another invitation.
Once an offer has been accepted, Shopify's underwriting staff examines the application and completes the request when a business owner accepts the invitation and decides on a lending offer. Shopify Capital transfers the money to your bank account so you may promptly access it. Additionally, Shopify Capital offers repayment plans that are customized for each merchant's needs. Over six to twelve months, merchants can repay their loans with set monthly payments. Merchants will also be allowed a choice between flexible repayments like variable monthly payments, lump sum payments, or pay-as-you-go. 
Shopify Capital Eligibility
Requirements for merchants to qualify for Shopify Capital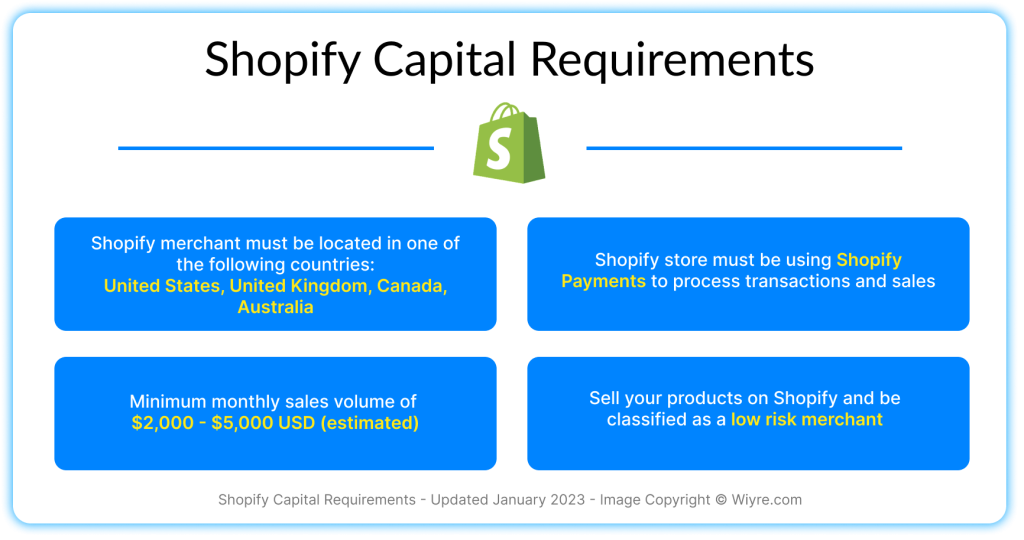 To qualify for financing, merchants must:
Operate in the USA, Canada, Australia, or the United Kingdom.
Sell your products on Shopify.
Be considered a low-risk merchant. (It's not entirely clear how Shopify classifies a merchant as "low-risk").
Have payments set up either through Shopify or a third-party payment provider
Process a minimum amount of sales. It is not clear exactly what amount would qualify, but it seems that the minimum sales are between at least $2,000 and $5,000 per month or $50,000 over the past 12 months. 
Types of Funding Available through Shopify Capital
Shopify Capital Loans
Sums advanced under the Shopify Capital Loans range from $200 to $1 million which usually has a 12-month repayment term. The amount that a company is eligible for is determined by average sales and cash flow.
After the loan has been approved, the money will be transferred to your company's bank account within a few days. The cash might be put to use for whatever you require to expand your business. Future sales are used to pay back the business debt. The corporation deducts a specific amount from your daily sales, which they refer to as a remittance rate.
The remittance rate is typically 10% of the value of the sale, although it can vary depending on your loan offer. That percentage would go toward paying off your loan. You are also required to meet the 60-day objective for company loans. To keep yourself on pace for the 12 Month-period, you must pay back one-sixth of the loan every 60 days.
Shopify Merchant Cash Advance
Similar to the Capital Loan, the borrowing ranges from $200 to $1 million, and everyday sales are applied toward settling the outstanding loan, the main difference being the loan repayment schedule for the merchant cash advances. The repayment term for a capital loan is 12 months, whereas there is no specified deadline for repayment of the merchant cash advances.
How to apply for Shopify Capital
It's not possible to apply for Shopify capital without first receiving an invitation to apply from Shopify. If your company is eligible Shopify will notify you via email, and it's at this point that you can begin the application process.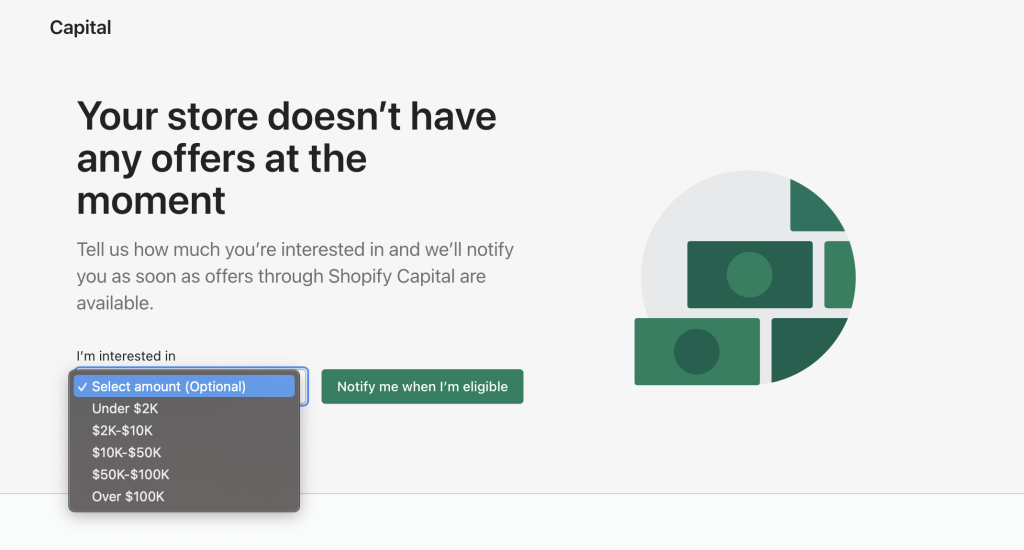 Once you're eligible, the application process is relatively straight-forward:
From the Admin page, head to Settings and then Capital.
Select View Funding Offers.
Select the funding option you require and then click on Request.
Review the Terms and Conditions, click on Accept terms and that's that.
Repayment of Shopify Capital Loans / Cash Advances
As outlined above, repayment for capital loans is done on a 12-month term, with payments made every 60 days, whereas the merchant advance is not bound by the same repayment terms and offers a more flexible option. 
For merchant advances, you will be able to pay back more of the loan on days when business is good, and less when business is slow. If your daily revenue is zero dollars, then you pay nothing towards settling the outstanding debt. Any amount can be paid whether it's the minimum of $20, or the full remaining balance in one lump sum.
To make a repayment of a Shopify Capital loan you must follow these steps:
From the admin page, navigate to Settings then Capital
Select Make a Payment
Select the amount you wish to settle (if lump sum select Custom amount, to pay the full amount choose Full remaining balance).
Click on Next step to review the selections made
Click Make a payment.
Conclusion
Shopify Capital is a simple-to-understand business loan solution for Shopify customers that could benefit from additional capital to build their business or expand their current offering. Once invited to apply the application process is quite simple, and the eligibility criteria aren't any more onerous compared to other financing options.
Whether you require a loan with set repayment terms or a merchant advance to ensure you have enough products in stock for a busy time that lies ahead, Shopify Capital is a viable option for current users of Shopify to fund your business endeavors.