As with any company, nonprofits are required to invest heavily in marketing to create awareness, boost social engagement and garner enough attention to attract potential donors to their causes. Similar to any profit-driven company, email marketing will likely form part of a well-balanced marketing strategy for nonprofits as well.
There are a few email platforms that offer great value, but as a nonprofit organization, Mailchimp should be considered a top contender for your email marketing needs. In this article, we will summarize the benefits of opting to use Mailchimp for your email marketing campaigns. 
Mailchimp Pricing and Discounts
One of the main attractions for choosing Mailchimp ahead of its competitors is its generous free option. There are also three paid tiers ranging from $13 p/m for their Essential option, $20 p/m for the Standard (recommended) package, and $350 p/m for the Premium package. Although there are considerable feature differences between the packages, the free option offers tremendous value and is undoubtedly a desirable choice for nonprofits attempting to get as much value for their donor money as possible.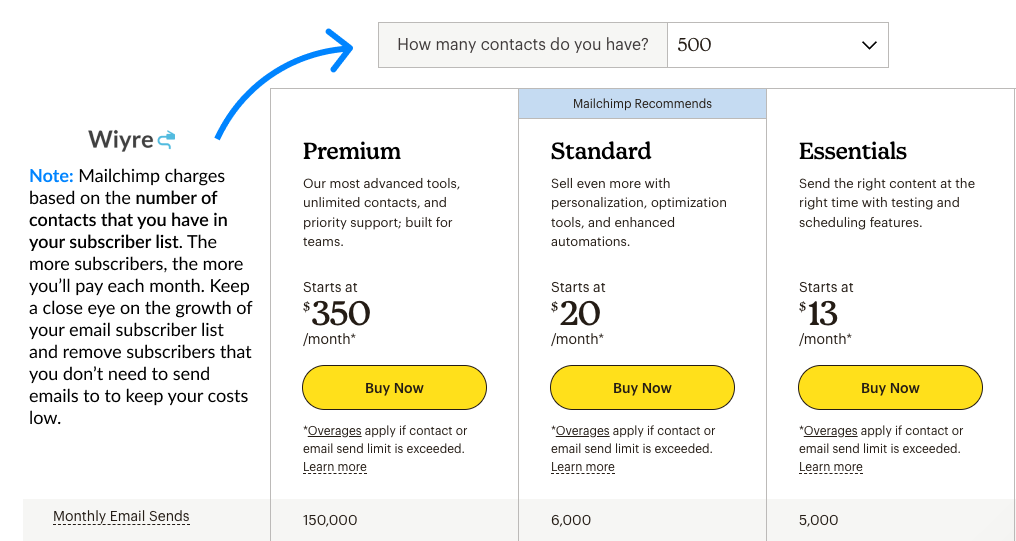 It is important to note that the application of the free package is somewhat limited by the number of subscribers you can have before you're required to purchase a paid plan. Your mailing list might quickly grow past the allowed 500 contacts, 2500 emails allowed per month, or the email customer support that is only provided for the first 30 days from sign-up. Should your mailing list surpass 500 contacts, or the 10,000 contacts included in the Premium package, it could be beneficial to compare Mailchimp to another mail marketing campaign software like ActiveCampaign which offers more contacts for a slightly more competitive $149 p/m. Read our review on Mailchimp vs. ActiveCampaign.
What nonprofits quality for the Mailchimp nonprofit discount?
Mailchimp's nonprofit pricing program offers 501(c)3 organizations (you would have to provide a valid copy of your official 501c3 determination letter) a 15% discount on premium subscriptions. You may be eligible for additional discounts from the business, such as a 10% security discount (note this discount is only active for 1 month) which is an added benefit for adding two-factor authentication to your account – a handy extra in safeguarding your data and the email addresses of your audience. 
How to upgrade Mailchimp package for nonprofits
To request a change to nonprofit billing is relatively straight-forward:
Visit the Contact Form and select Billing;
Under Billing, choose the Non-profit Discount Request option;
Click on the Access our contact form.
Keep in mind that the process can take some time to approve and the approval time varies depending on your location. When applying for the discount it is important to know the following:
The discount only applies to certain features. (i.e, it would not be applied toward third-party purchases made inside Mailchimp);
No retroactive discounts will be applied or refunds on past orders issued;
An organization might qualify for more than one discount, and all discounts are applied to your account individually (i.e a 15% nonprofit discount and 10% security discount for the first month, would be worth a 23.5% discount rather than 25%)
Key Mailchimp Features for Nonprofits
Although the discounts alone could attract nonprofits to the platform, the range of different products that Mailchimp provides take care of almost everything you might need from an email marketing perspective.
Segmentation and customization of your audience
Organization of important contacts in your mailing list is a key component to any email campaign's success, yielding better results. Mailchimp allows you to upload your existing contacts using a .csv file, and then add custom fields, personalized merge tags to populate custom information, or generate lists for segmentation of your audience.
By using Mailchimp's expert configurations, you can organize your contacts by Audience, Groups, and Tags allowing you to add subscribers to your mailing list without creating separate lists, and Segments which are groups of subscribers who meet certain conditions. This is super helpful if you wanted to create an Audience of "Top Donors" who get emails that are most tailored that other contacts.
Personalized branding templates with a simple-to-use editor
With Mailchimp, you can design stunning, consistently branded emails without knowing how to code. With Mailchimp's easy-to-use drag-and-drop editor, you can design customized email layouts and store them as templates for later use.
People would be able to recognize your nonprofit's work more easily thanks to the logo and brand colors you choose, and you will be able to ensure consistency throughout your messages and increase confidence in your organization by simply including your logo in the header and bulk emails.
If you're looking to build a campaign for the first time and want a walkthrough on the process, take a look at the video below to see how you can create a Mailchimp campaign from start to finish:
Every email sent is tracked by Mailchimp in terms of opens and clicks. It is worth noting that they provide benchmarks to help you gauge your campaign achievement and Mailchimp allows you to choose the industry in which you operate to receive comparative feedback. You can then check their reports to discover how well your email fared against similar organizations once you have delivered your first campaign.

Metrics tracked over time include the percentage of emails opened by your subscribers, the percentages of clicks or people taking action after opening an email as well as the number of subscribers that are signing up.
A key feature for subscriber engagement is the automation of certain useful processes. An automatic welcome email, for example, sent to a new subscriber is an important driver for donor retention and facilitating recurring donations. It's also a great way to connect with subscribers to your list right after they subscribe, and include immediate value in your emails such as a link to your website, or a photo highlight of recent work your nonprofit has done.
Tools for growing a mailing list
There are many tools that could be used to grow your mailing list, of which a few popular options include, Facebook mailing list integrations, collections of mailing list sign-ups on your website, and uploading consenting supporters into your Mailchimp list to stay in touch.
Important Mailchimp Integrations
Mailchimp integrates with most major software and third-party application such as:
With all the various integrations available to use with Mailchimp, many manual functions (i.e. manually sending emails that are triggered by a subscribers behavior), that would otherwise take up vast amounts of time and energy to deal with individually, are streamlined and automatic, saving you time and making the whole process as smooth as possible.
Conclusion
Considering the above features and nonprofit discount benefits, it comes as no surprise that Mailchimp is probably the foremost popular email marketing platform for nonprofits available on the market.
With its ease-of-use analytics dashboard, the drag-and-drop campaign editor, and the customizability of their email templates, nonprofits without any previous technical experience can launch right into the world of email marketing and set up campaigns to reach out for donations and maintain current donors, making it Mailchimp and important part of any email marketing strategy.