Most business owners and startup experts can agree that launching a business, growing it into a successful endeavor, and then keeping it relevant in the minds of the consumer can be challenging. At the forefront of any successful business, you will likely find an email marketing program such as Mailchimp or ActiveCampaign working behind the scenes to keep customers engaged and informed.
There are many ways to market directly to your desired audience, yet few can argue that one of the most effective strategies for direct marketing would be newsletters and information sent via email. Enter the small – to medium-sized business marketing platforms Mailchimp and ActiveCampaign. In this article we will compare the various email marketing platforms to understand what might be best suited for your needs.
Key Takeaways
Mailchimp and ActiveCampaign are both leaders in the field of email small and medium business platforms, but is one clearly a better option?
The Mailchimp free option puts it ahead its main competitor in one very important feature: entry-level pricing
If customer support is important to your experience using an email marketing platform, there are certain factors to consider before engaging Mailchimp for their services
Mailchimp is a user-friendly option with a vast array of template options, but Mailchimp does not offer the same level of customization as ActiveCampaign
If reporting and analytics are what you are after, Mailchimp might offer a few more features that might change your mind
With its 24/7 customer support and priority support for higher-tiered users, ActiveCampaign has perhaps the better option for those looking for extra assistance with your campaigns
What is Mailchimp?
One example of a small to medium business-oriented marketing platform is Mailchimp. Probably the default option for most small businesses and entrepreneurs, and perhaps one of the most well-known platforms in the world. Marketed as an all-in-one marketing platform, Mailchimp is a simple tool used to send marketing emails and automated messages directly to a targeted audience by use of ad campaigns, custom landing pages, postcards, and built-in analytics to help you better understand your reach.
What is ActiveCampaign?
Another example of a user-friendly email platform is ActiveCampaign. Although not as well-known as Mailchimp, ActiveCampaign is a worthy competitor when considering your basic email marketing options and has a host of features not available in the Mailchimp offering. The choice of whether to use ActiveCampaign or Mailchimp often comes down to what specific features you need, and ultimately, what you can afford. One of the main benefits of ActiveCampaign is that no matter which tier you purchase, you are not limited to the number of emails you send; you can send unlimited emails on just the entry-level plan!
Pricing
Mailchimp Pricing Plan & Costs
Out of the two options, Mailchimp is the only platform with a free option, with prices for the other three tiers, ranging from just under $11 for the Essential Package, $17 for the Standard Plan, and $350 for the Premium Marketing Plan. All of these prices are for a maximum of 500 contacts. If you have over 500 contacts, the cost increases in each plan. The difference in packages is quite substantial, but for businesses just starting with limited access to cash flow, the free option offers immense value and is an attractive option for new clients.
ActiveCampaign Pricing Plan & Costs
Although ActiveCampaign does not have the perks of a free option, they do offer a 14 day trial and a 20% discount for non-profit companies using their service. The price points for their three options are $29 /mo for the Lite, $49 /mo for Plus and $149 /mo for the Professional suite which includes all their features.
If your site attracts a large audience and your mailing list has grown past 50,000 subscribers, the pricing for each of the two platforms starts to look quite similar making pricing less of a factor. This means that at a certain stage, you would only consider what unique features the platforms have to offer.
Mailchimp
Free Trial Available?
Yes, forever free, up to 1,000 monthly email sends
Pricing Tiers
Three paid tiers available, based on contacts in your subscriber list, and the number of monthly email sends that you perform
---
Mailchimp "Essentials" plan:
$13 per month
5,000 monthly email sends
3 users (to use the platform)
24/7 Email & Chat Support
No Custom-Coded Templates
No Pre-Built Journeys
ActiveCampaign
Free Trial Available?
14-day free trial, then you must convert to a paid subscription.
Pricing Tiers
Four tiers available, pricing is based on the features you need and not the number of sends. Each paid tier offers unlimited email sending.
---
ActiveCampaign "Lite" Plan
$9 per month
Unlimited email sends
Only 1 user
Drag and drop email builder
No E-Commerce Store Integrations
No Abandoned Cart Automation
Email Templates
Mailchimp Template Options
Although there are limited email template options on the free version of Mailchimp, the Standard package, which includes all the pre-designed templates offers more than 100 templates and designs to match any message. The templates are customizable to your business, but users are unable to edit the template's underlying code. It is entirely possible for coders to import their own custom code in the form of a zip file or HTML. Although Mailchimp allows you to create templates by dragging and dropping content, you would need some level of image editing skills to make the most of the platform, keeping in mind that the classic templates are not nearly as responsive as the drag & drop templates.
ActiveCampaign Template Options
Both Mailchimp and ActiveCampaign enable a customizable design for their templates, but it's ActiveCampaign that offers over 125 templates with a modern sleeker look, with some of Mailchimp's templates appearing dated and could benefit from some refreshing. ActiveCampaign offers many more templates on their most affordable package and goes the extra mile to make sure that each email looks excellent on mobile devices. An added benefit of using ActiveCampaign is its complementary short courses guiding you along the custom creation process and making the process as easy as possible for beginners.
With its simplistic drag-and-drop layout builder, responsive layout, and personalized tags for designing email templates, the ActiveCampaign platform is designed to be user-friendly and in many instances, the platform of choice for advanced template design and customization. With the simple editor, you can easily add text, images, buttons, videos, and social links or customize the CSS and the HTML of the templates.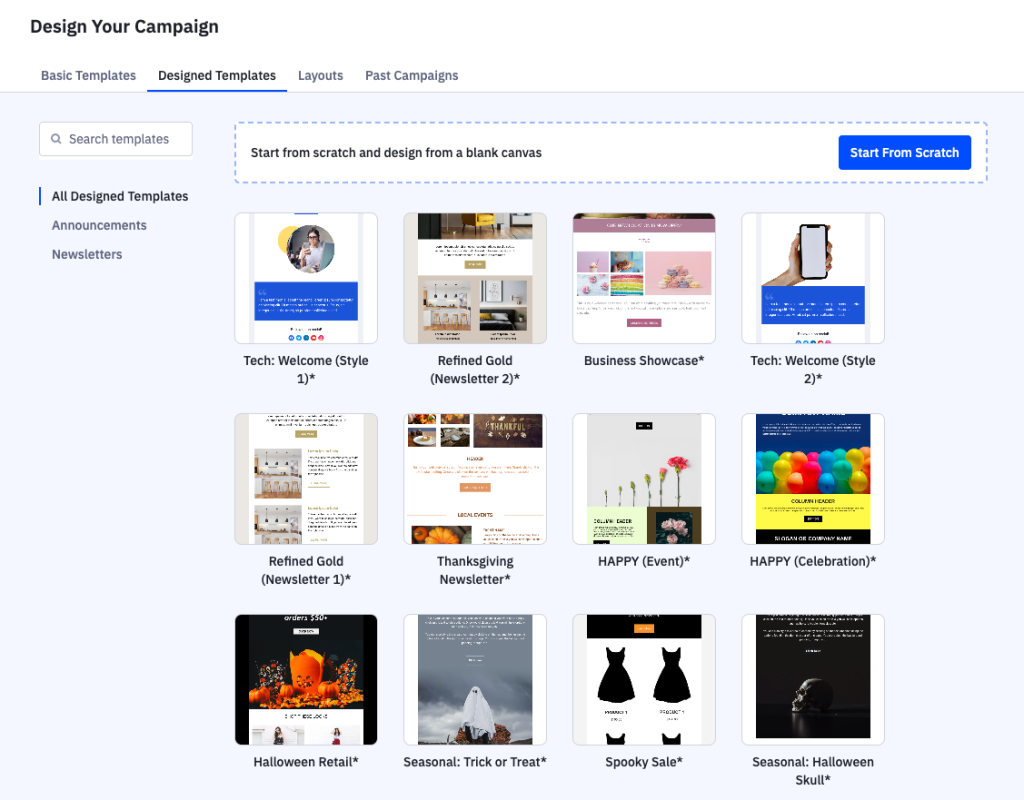 Automation
Automated emails can be a useful tool to boost subscriber activity, and have been shown to boost sales and keep users engaged. Both Mailchimp and ActiveCampaign make use of automated emails when triggered by a specific function or activity.
A trigger is an action that starts the automation process (e.g Mailchimp triggers an email when a user subscribes to a mailing list or places an order). A few examples of categories of triggers both Mailchimp and ActiveCampaign support are joining mailing lists, user unsubscribes, abandoned cart automation, and many more.
Possible Automation Types in Mailchimp
With Mailchimp, you are limited to a set number of preset automation types that can be tailored to your campaign goals. It's also possible to create your own custom triggers which could expand on your limited options as it is possible to expand on the limited classic automation to a more custom setup. For a full list of all classic automation triggers, see this list.
Campaign Activity Triggers
Campaign activity triggers activate when an action, or inaction, is taken based on a contact that is subscribed to your email marketing list. Common campaign activity triggers include simple triggers such as when someone opens an email in your campaign or clicks any link within the email body.
Audience Management Triggers
Audience management triggers care less about what your subscribers do, and more about the characteristics of the subscribers within your list itself. For example, an audience management campaign may have a trigger fire when a contact is added to a group, is removed or leaves a group, or something even simpler like when a user signs up for your newsletter for the first time.
Workflow Activity Triggers
Workflow triggers are based on previous automated activity. An example is when a subscriber doesn't open a previous automated email or opens an automated email, but doesn't click on any links. Workflow activity emails are good to identify users who may need an extra email to make up their minds or a reminder in case they don't complete an important action. An example of a workflow trigger use case is when you send an automated follow-up email to confirm something with a customer and ask them to click a link to confirm – if the user opens the email but doesn't click on the link to confirm, you might have a workflow that sends another email to the subscriber to ensure they click through and complete the action.
E-Commerce Triggers
Abandoned cart emails (sent from the "abandoned" cart" trigger in the chart above) are one of the most common types of e-commerce email marketing triggers available and one that many business owners will want to take advantage of. In the video below you can see how to set up this specific trigger on Mailchimp with a Shopify store:
Integrations Triggers
There are only two types of Integrations triggers, outlined below:
| Integrations – Trigger Name | Action |
| --- | --- |
| API 3.0 | Triggers an email that is sent when a subscriber's email ID is posted to an API endpoint that you define. |
| Event API | Triggers an email that sends when an API call is posted to the Events endpoint with a specific event name parameter. Available to Premium accounts only – see pricing table here for full details. |
Integrations Triggers List for Mailchimp
Date-based Triggers
The most common type of date base triggers are sent when a user has a birthday, or an email is sent every year when a specific date arrives. Date triggers also apply to anniversaries, or to remind a customer that an upcoming date is about to arrive.
With the use of automation maps and segmentation, you can see all your automation rules in a single birds-eye view of the platform, and from there draw performance reports and make changes. A few features such as Multi Starting Points and Branch Points are only available on the Standard Package pricing tier, with the Advanced Segmentation feature available on the Premium Mailchimp tier. With ActiveCampaign's ability to import data from various sources such as emails, your website, social media, and digital advertising, you can create stronger customer experiences across your entire online presence.
ActiveCampaign Triggers
| Trigger Name | Action |
| --- | --- |
| Subscribes | Trigger begins an automation when a contact is added to a list. |
| Unsubscribes | Trigger begins an automation when a contact is removed from the list. |
| Submits a form | Trigger begins an automation every time a contact submits a form. |
| Opens/reads an email | Trigger begins an automation when a contact opens a campaign (there are additional options to specific campaigns etc). |
| Clicks a link in email | Trigger begins an automation when a contact clicks a link within your email campaign. |
| Web page is visited | Trigger begins an automation by way of site tracking data when a contact visits a page of your website. This is usually performed by a cookie that you place on your site to track user visits. |
| Event is recorded | By way of event tracking data trigger begins an automation when a defined event is recorded. |
| Shares an email | Trigger begins an automation when a contact clicks on a social shared link within a campaign email (this includes emails sent within automations) |
| Forwards an email | Trigger begins an automation when a contact forwards an email campaign. |
| Replies to an email | Trigger begins an automation when a contact replies either to a campaign or to a personal email (this includes one-on-one mails sent through your email associated with ActiveCampaign). |
| Tag is added | Trigger begins an automation when a specific tag is attached to a contact. |
| Tag is removed | Trigger begins an automation when a specific tag is removed from a contact. |
| Field changes | Trigger begins an automation when a specific field changes for a contact (custom or default fields). |
| Goal is achieved | Trigger begins an automation when a contact either achieves or skips a goal from another automation. |
| Date based | Trigger begins an automation to run on a specific date. Example of this would be a birthday of a subscriber or contact. |
| RSS based | Trigger begins an automation when your RSS feed is updated with new content. |
| Dismisses a site message | Trigger begins an automation when a contact dismisses a site message on your website. |
| Conversions occur | Trigger begins an automation when a contact triggers a conversion. |
| Makes a purchase | Trigger begins an automation when a contact makes a purchase in an eCommerce store. |
| Score changes | Trigger begins an automation when a contact or lead changes. |
| Enters a pipeline | Trigger begins an automation when a new deal is created and added to a pipeline. |
| Deal stage changes | Trigger begins an automation when a deal changes to a different stage. |
| Deal status changes | Trigger begins an automation when the status of a deal changes. |
A full list of all possible ActiveCampaign Triggers for email marketing automation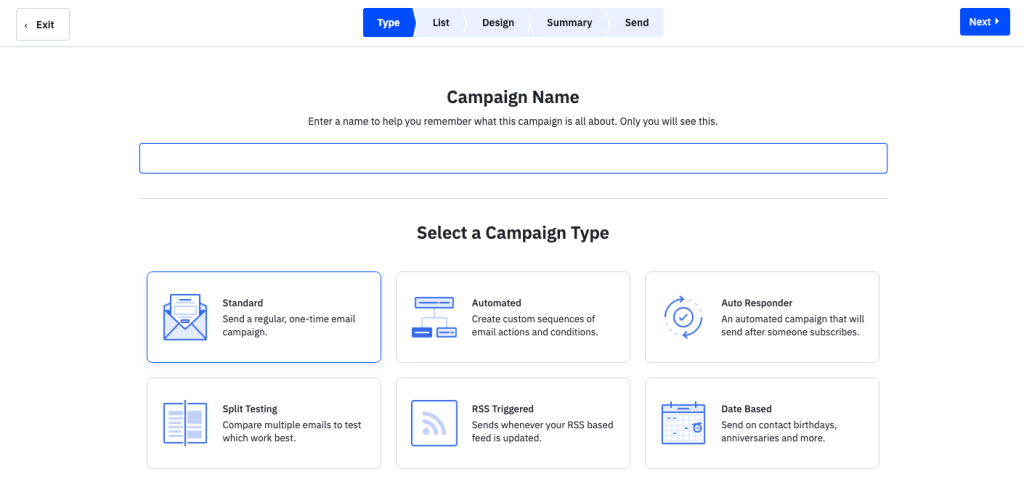 Support and Customer Service
Mailchimp offers free basic support as well as a wide range of tutorials, guides, and FAQs. Mailchimp also provides a Knowledge Base where customers can access more detailed support information. Email support is available on the free tier for a period of 30 days after signup, with 24/7 email and chat support available on the Essential and Standard packages. For active businesses with a robust email list and higher email frequencies, Mailchimp offers Phone and Priority support should you be willing to pay for the Premium package.
Overall, users aren't particularly satisfied with Mailchimp's customer service and according to customer feedback, their overall customer and support service leaves a lot to be desired. One user went as far as to suggest that Mailchimp's customer support is a serious issue that needs to be raised constantly until they address the problem.
ActiveCampaign, on the other hand, offers more comprehensive customer service options. The platform offers 24/7 live chat and phone support for customers on all of its plans. In addition, ActiveCampaign provides an extensive library of resources, including detailed articles, tutorials, and videos. For those who need more advanced support, ActiveCampaign also offers priority support for customers on higher-tier plans. This includes access to a dedicated customer service representative, as well as a higher priority for support requests.
Many customers rate ActiveCampaign's customer service highly with some going as far as calling their service "Top Notch", and their service via chat "Incredible", commenting that they address issues immediately and elevate problems they cannot solve in a timeous manner, with quick turnaround times.
Overall, both Mailchimp and ActiveCampaign offer great customer service options for their users. However, for those who need more advanced support, ActiveCampaign is a clear choice. With its 24/7 support, extensive library of resources, and priority support for higher-tier plans, ActiveCampaign has the edge when it comes to customer service.
Reporting and Analytics
ActiveCampaign Reporting and Analytics
First, let's talk about ActiveCampaign. Reports on email campaigns, automation processes, and contacts are simple to produce. You can learn everything you need to know about open rates, click rates, and other metrics from these reports.
If you've gathered the necessary information, you may also learn more about the activities of your subscribers, including who opened your emails, from where, at what time of day, who bounced, and who clicked on the links within the email itself.
It's not ideal that soft and hard bounces are combined, but on the plus side, you can quickly examine engagement rates for each contact on your list. ActiveCampaign also offers a tool to assess how well your campaign performed compared to industry norms in the form of a Campaigns Performance report. Furthermore, Mailchimp generates reports on landing pages, as we've already covered. Even though Mailchimp provides a few more e-commerce reports, I found ActiveCampaign's reporting feature to be simpler to use. Additionally, while Mailchimp offers consumers a wealth of insightful data, it doesn't actually instruct you on how to use it. The analytics package from ActiveCampaign makes it simpler to act on the data you've collected.
ActiveCampaign also offers deal reports. Deals, in short, are a way of identifying sales opportunities in the form of qualified leads. In other words, deals are contracts that do not remain dormant in the database, but rather in your pipeline en route to becoming customers. Deal reports are summaries of the deals in the CRM, which is a service provided by ActiveCampaign in addition to everything else mentioned above. Reports such as deals over time, funnel overviews, and deal owner by reports are available here.
ActiveCampaign only permits "deep data" reporting with Shopify, BigCommerce, and WooCommerce; Mailchimp, on the other hand, offers more comprehensive reporting features such as automated insights, segmentation analysis, and A/B testing.
Mailchimp Reporting and Analytics
Mailchimp has many similar features as ActiveCampaign when it comes to reporting and analytics, but lacks a full CRM solution that you would find with ActiveCampaign. Mailchimp does offer basic metrics on the growth of your email list and the campaigns you send out, an example of such metrics is shown in the image below.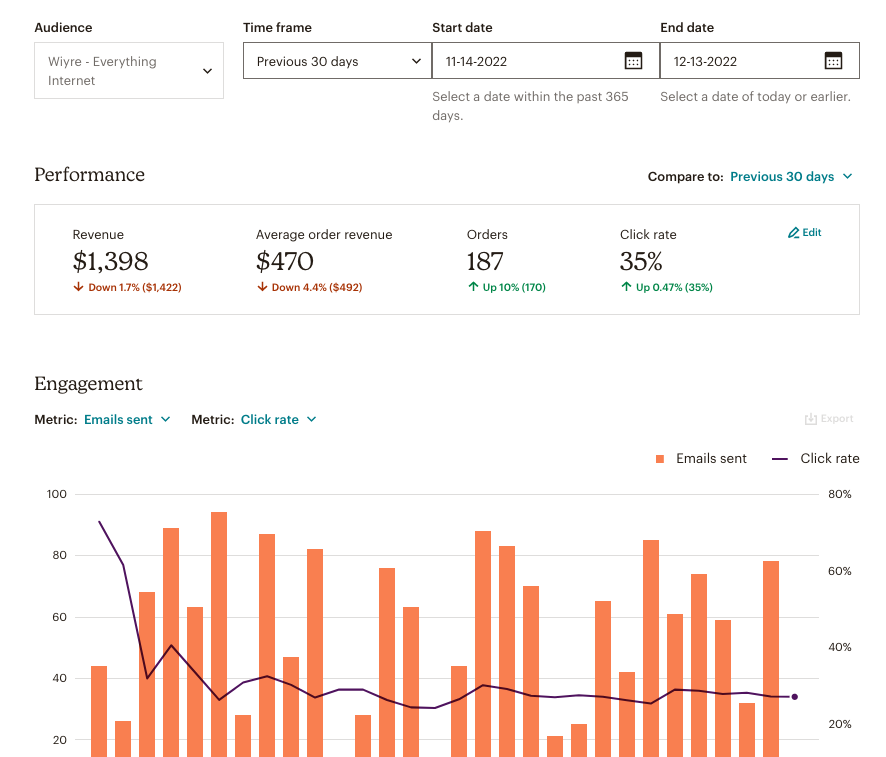 Mailchimp has a separate section called "Reports" – this video describes the Reports tab and the performance within an email campaign that you send out.
Overview & Conclusion
Although both Mailchimp and ActiveCampaign are stellar marketing platforms with millions of customers, there are a few standout aspects that might sway you one way or another. When considering the usability of each, both platforms boast a user-friendly interface that makes planning and coordinating your next email or marketing campaign a walk in the park.
If you are running a large operation, managing many subscribers, sending frequent newsletters, or sending deals based on the information of your end client or user, then ActiveCampaign offers a competitively priced package for the professional tools and services they pack into the various plans. Even though Mailchimp offers the user over 100 customizable templates to choose from, ActiveCampaign's modern approach to the style and finishes of their templates as well as the larger selection of standard customizable templates adds variety to their offering, making it the better option. The possibility of modifying the underlying HTML is a bonus for those who are technically proficient.
For a startup business, strapped for cash and in no need for all the many tools both Mailchimp and ActiveCampaign has to offer, the free option of Mailchimp will have an undeniable appeal and probably is the main reason why you would opt to use it instead of ActiveCampaign.