How-To
(Solution) Contact Form 7 Issues – "Your contact form has a configuration issue"
---
The mantra for this week is: "Why fix something that isn't broken?" but, alas, here we are and forced to deal with it or else none of your customers will be able to send messages through your contact form just based on the newest Contact Form 7 Version 4.4 update. Frustrating. I know.
Errors include, but are not limited to:
This field can be empty depending on user input.
This contact form has a configuration error.
This email address does not belong to the same domain as the site.
Again – why can't they just leave it be? Well – it may not be entirely their fault over at Contact Form 7 – apparently from what I've gathered, email service providers are blocking messages that do not meet the configuration errors outlined by the contact form, although I personally haven't had an issues with BlueHost and their mailbox configuration.
If you really want to get rid of the configuration errors and enable your visitors to send email again, we've found a solution. Luckily we found some ways work around this inconvenience until they decide to revert it back to the old configuration or just just ensure a way for the contact from to work otherwise. So without further ado –
Solution to: "This field can be empty depending on user input."
The error looks like this:

This error means that there are options in your contact form that are not required, so if a user leaves this blank, sometimes the email will be sent but marked as spam by your web host. To fix this issue, go back to the contact form edit page, then put a star (asterisk) next to each user input option requiring the user to put content for each category. See below for an example: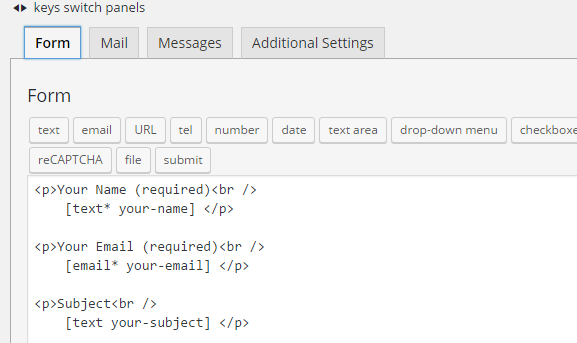 See the stars next to the "Your Email" option above? (The asterisks next to email) Put an asterisk next to "text" underneath the Subject, then click save. That will solve this configuration error.
Solution to: "This email address does not belong to the same domain as the site."

This one is truly baffling. Apparently, the only way to fix this error is to change the "From" settings in your contact form to have the senders address to be your own email address or another email address from your web server. Now, you may be asking "But that doesn't make any sense! I want to the "From" address to be the users address, not my own!" To which we respond: Yes, we completely agree. It makes no sense why this is required – but in order for the error to go away, this is the only solution we have found so far. (If someone from Contact Form 7 could let us know WHY this is required, we would love to include it in this post.)
To get rid of this error, change the current "your-email" to [email protected] OR the email address that you receive messages from. It is also possible to create a new email address specifically for this purpose, you could name it "[email protected]". See below for an example.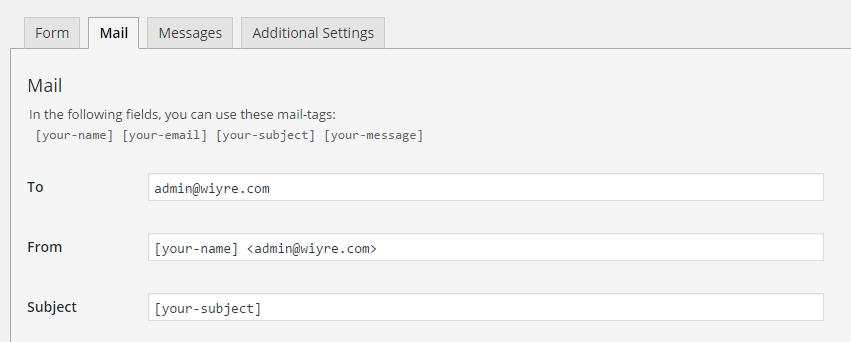 Make sure that you also remove the brackets [ ] that existed before, or else you will get a syntax error.
If you solve these errors  – the error "this contact form has a configuration error" will go away.
If you have additional errors not answered above – please leave them in a comment below and we will try our best to address them.
Updates:
As David has pointed out below, once you perform the above actions, you will be unable to respond to the customer by clicking on the "Reply" button in your email. To circumvent this issue, you need to add the following into your "Additional Headers" section in the settings of Contact Form 7.
Below is a screenshot that will fix this issue:

Once you do this, you'll be able to reply directly to the customer/user that sent the contact form. Thanks David!