Website uptime is important, and every second your site is down means lost visitors and potentially missed revenue. Making sure that you have monitoring in place to check that your site is operating as expected is critical, but you also need to be alerted as soon as something goes wrong. With New Relic, you can easily setup uptime or downtime alerts which notify you if your website experiences an issue or can't load content on your site. Regardless of whether you're using a CMS like WordPress, an e-commerce platform like Shopify, or running your own web server – uptime monitoring and alerts are easy to configure and best of all, completely free with New Relic's free tier.
In this tutorial, we will walk through how to setup a website downtime alert for free using two tools, called New Relic Synthetics and New Relic Alerts & AI. We will use both of these tools to check if the website is online (Synthetics) and then if the website is down, send an alert (Alerts). The first thing we need to do is create a New Relic account.
Time needed: 20 minutes
For this guide, we'll assume that you haven't created an account on New Relic yet or setup an existing monitor. If you already have an account, you can skip Step 1.
Validate that your Alert is working correctly
Once you've saved your alert, you'll probably want to check and make sure that your alert is working correctly. The easiest way to do this is to simply change your Synthetics monitor to check a webpage that doesn't exist on your site, and wait for your alert go off (since you're asking New Relic to check a page that doesn't exist, it will fail every time, because it won't be able to find the page). Once it fails and your alert thresholds are triggered – you'll receive an email that gives you information about the alert and the ability to acknowledge the alert or close the alert.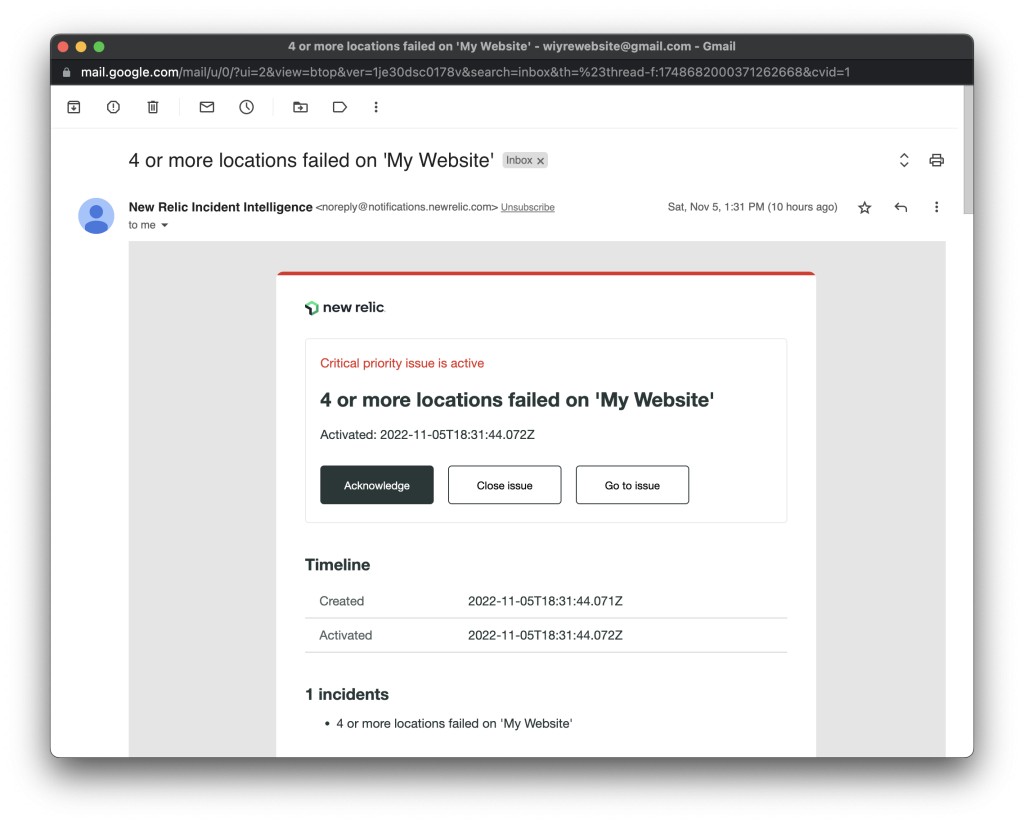 Success! Once you know your alert is working correctly, change your monitor settings back to the values you prefer, and close the alert. You can see all of your alerts (even the ones that have been closed or acknowledged by other people, if you're part of a team) in one place on the New Relic alerts page: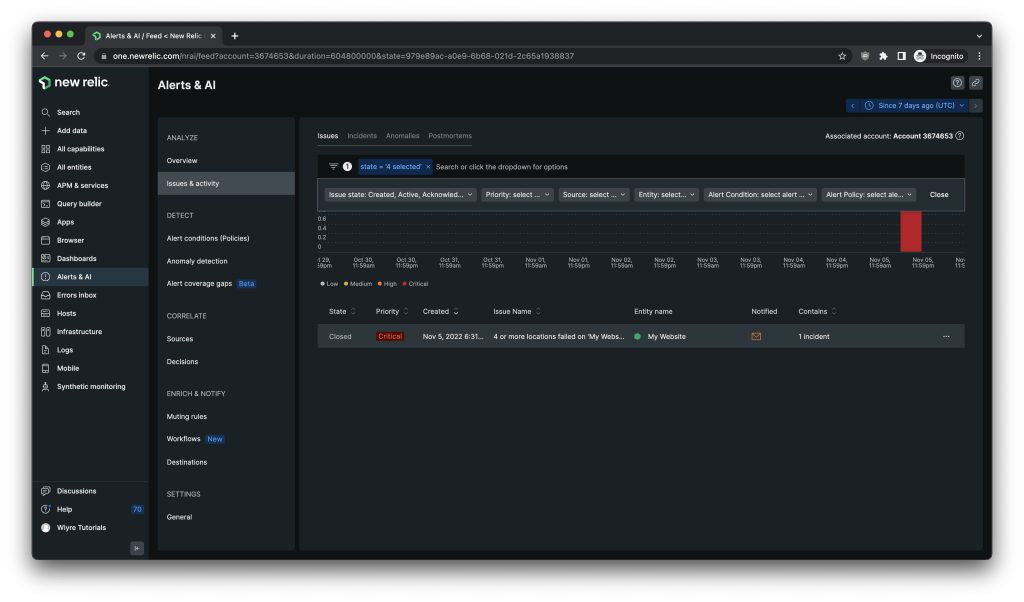 With this monitor and alert combination, you can be at ease knowing that you'll be alerted the moment something goes wrong on your website. The next step is to setup monitoring for all websites or online services that you work with – or setup an advanced monitor to check for specific user flows, or create fully scripted browsers that perform a variety of actions during the check.