Resources
List Of Countries Banned & Restricted From Obtaining SSL Certificates
---
The Certification Authority Browser Forum (CA/Browser Forum) has limited or restricted the following countries from obtaining, Extended Validation SSL, Organization Validation (OV), and Domain Validation (DV) certificates.
Banned Countries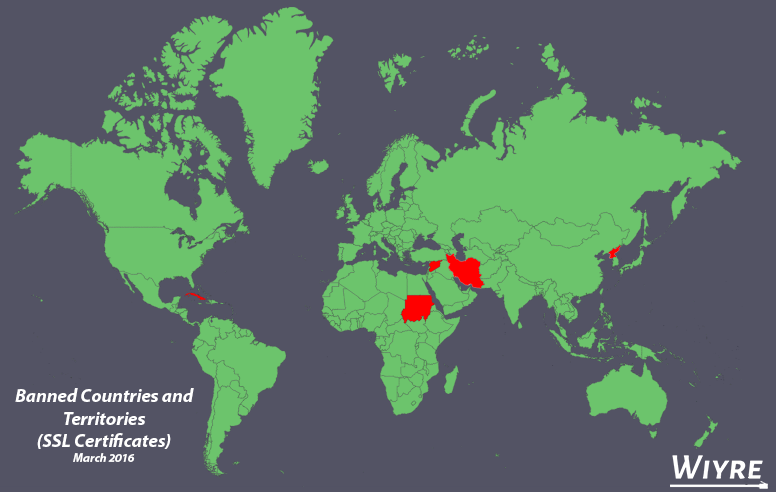 Cuba
Iran
North Korea
Sudan
Syria
In addition, the following countries may also be restricted or outright banned depending on your certificate provider. Some certificate providers will refuse to issue to the following countries as well due to company policy or trade agreements.
POTENTIALLY RESTRICTED COUNTRIES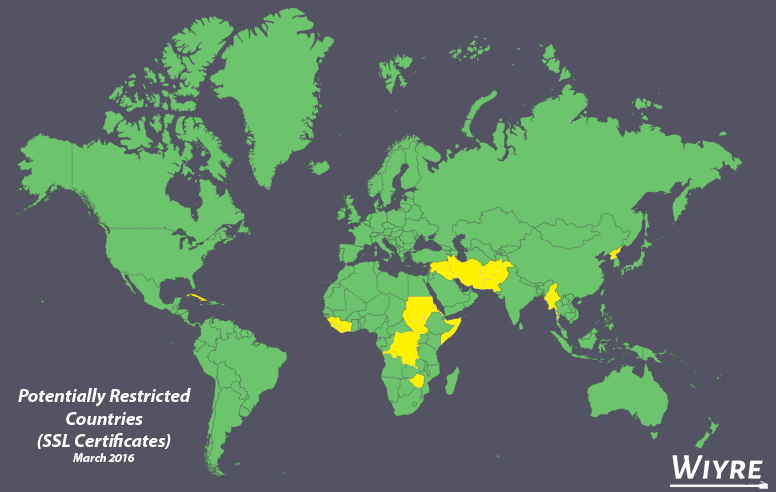 Afghanistan
Belarus*
Cote d'Ivoire
Cuba
Democratic Republic of Congo
Eritrea
Guinea
Iraq
Iran, Islamic Republic of
North Korea
Liberia
Myanmar
Pakistan
Rwanda
Sudan
Sierra Leone
South Sudan
Syrian Arab Republic
Zimbabwe
(* – Missing from map, whoops)
WHY IS A COUNTRY BANNED FROM RECEIVING A SECURITY CERTIFICATE OR SSL?
Usually, it is because the country is experiencing a period of political unrest and the security of information traveling in and out may be compromised by the government or an outside entity. For the potentially restricted countries – there can be a variety of reasons, one of them being that the company issuing you the SSL certificate could infringe a trade agreement by engaging in business with a website located in one of the restricted countries. For countries like Belarus, web censorship is present and can affect security of SSL certificates in the region. (Read more.)