One of the hardest things that blog owners run into today is promoting their writing and content – you might have the greatest blog on the internet about a certain subject, but with no readers and zero traffic it doesn't really matter if your article is excellent or awful because no-one will be reading! How do you solve this problem? Promotion using blog aggregators is always a solid plan. By submitting your blog to different aggregator websites, you are promoting your content in front of thousands of different people – and if your content is truly good it will usually rise to the top – leading to even more exposure. There are many blog aggregator websites available – most of them are free, but there are some that charge an upfront fee or a submission fee in order to submit your blog posts or website links. I've organized the list below in "Free" and "Paid" sections, so you can easily see which ones to target and which to avoid. Most of the blog aggregator websites listed below require you to sign up and create an account first before you submit your blog, unless otherwise noted.
Free Blog Aggregators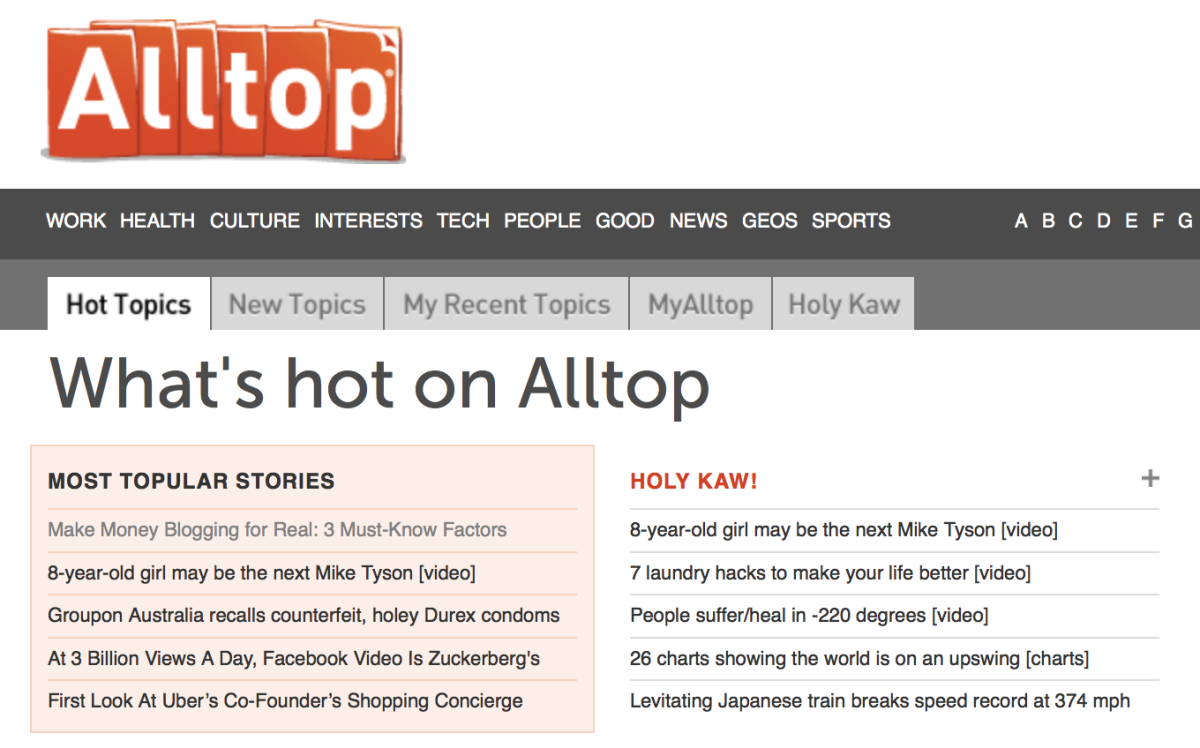 AllTop is one of the leading blog aggregators currently available. There are tons of different topics that you can browse through, and the submission process is very simple, although it is somewhat hard to find on the website itself. On the bottom of the website there is a "Submissions" button on the lower right hand side, by clicking on that link it will take you to a submissions form. Note that being featured on this website is extremely difficult, even popular established blogs have difficulty being accepted on Alltop even if they have been featured before in the past. Don't let that stop you from trying though, it's free to submit! You do not need to create an account in order to submit links to Alltop.com.


Blogorama is another popular blog submission website that has even more categories than Alltop. You need to create an account in order to submit a blog, however you are able to submit multiple blogs very quickly once you create your account. Your blog has the possibility to appear in the "Recently Added Blogs" section of the website, viewable to all current visitors at that current time.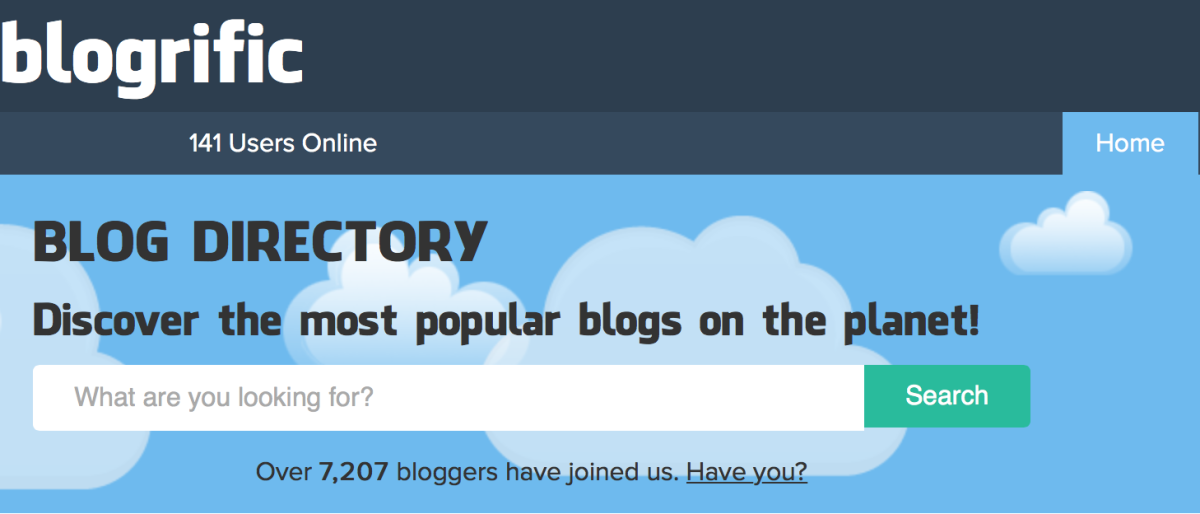 Blogrific is a newcomer to the world of blog aggregators. Previously known as "ReadABlog", blogrific has rebranded the domain to offer a more streamlined, simpler way to submit and read through blogs. One of the benefits of using a site like Blogrific is that the user base may be small, but it is easy to have your content rise to the top if there is less competition. There are anywhere from 150-500 users on the website at any time as of April 2015. An account is required before you add your blog to the directory.

Blogcatalog is a blog submission and directory that also has a paid section called VIB's, although you can submit your blog for free once you create an account. Account creation is simple and the interface of the website itself is very clean and uncluttered. Featuring your blog on this website is very expensive and should only be considered for those who are serious about blogging – for all others you can submit your blog for free in the general directory. (Paid program ranges from $200-$500/year)
5: Globe of Blogs
UPDATE:
Globe of Blogs seems to be hacked, thanks for readers pointing this out. I have removed the links to the URL for now but kept the content incase it does decide to come back online, but until then you should not try to visit the website for the safety and security of your computer.

Globe of Blogs is a blog directory that features certain blogs each month. It is usually focused on non-commercial websites that have been updated within the last three months. You also need to submit a blog of "quality" content, although they don't really specify exactly what that means. They have a huge backlog of blogs that they are going through at the moment, so don't be concerned if it takes time for your blog to be approved and listed on the website. They currently have over 50k blogs in the directory, searchable by location of the submission, author, and title.
PAID BLOG AGGREGATORS

Blogengage enables users to "thumb up" or "thumb down" your submitted content. If your content is liked by a lot of people, it could reach the "Top Users" tab where it could see even more traffic. Submitting your blog on this aggregator provides a free dofollow link, useful for helping your blog rank and show up high in the Google Search rankings. Sort through blogs even further by using the drop-down links at the top of the page to look through specific categories like Entertainment, Health, and a ton of others. Requires you to create an account before you submit a link to your blog. Cost: £19.99 as a Standard Member

Blokube is similar to Blogorama in that you can submit multiple blog posts very quickly – they also have certain categories not only for the genre of the blog but for the "newest" blog posts, the "hottest" blog posts, and categories depending on which user submitted the blog originally. They also have a paid service where you can setup your blog to autopost to Blokube – eliminating you having to enter each URL and article every time you come out with a new blog post. Cost: £1.99 / month or £5.99 per year

EatonWeb is a paid blog directory website that you can submit your blog to along with two or three keywords, making it easier for search engines to pickup the blog and associate it with the keywords you choose. A link from this website is powerful because only the big players are willing to pay the fee to have their blog listed – in other words, you won't see cheap spam blogs being advertised and promoted here. The price is steep but you have a chance to receive some top-notch traffic if you want to spend money on promotion. Cost: $34.99 per blog URL

Blog Search Engine provides you with a review of your blog that is posted on the website itself, providing a backlink as well as press to your site. There are two packages, the first package is a typical review by a BlogSearchEngine editor and a screen grab of your homepage, the second package comes with all the features of the first, plus the ability to win awards and be featured and promoted on the Blog Search Engine social media accounts on Facebook and Twitter. Cost: $14.99 Standard Package – $24.99 Silver Package

SutraWeb blog directory advertises itself as being a family friendly place to submit websites, blogs, and articles to be reviewed by an actual person and then added to the directory. Adult content is not allowed, and all submissions must be in English. There is a regional section for non-english blogs where there is a separate submission process. Cost: $24.99/unlimited or "premium" listing for $49.99/year
Did I miss something? Leave a comment below and I'll add it to the list!