When you first setup your WordPress blog, the standard WordPress theme will be installed and active for you automatically, but the beauty of WordPress is the ease at which you can customize the site to your style and liking. There are so many WordPress themes out there. You can choose a responsive theme so that it works with all devices, a bootstrapped theme for versatility and flexibility if you know your way around HTML and CSS. And then there are the custom themes which revolve around custom websites, such as sites for hairdressers, realtors, and lawyers. So with the sea of themes out there, how do you find and decide on the right one for your website?
If you haven't already, I highly recommend you read Part 1 of this How-To series, which details how to start a website in less than 60 minutes. You can read the guide here.
The truth of the matter is, it may take some research and a few visits to different theme reseller websites to determine which theme is best for you. It might also be worth the time to do some research as to what other websites in your industry or target market are doing, and figure out what themes they are using (more on this later). 
Types of WordPress Themes
Custom Themes – Most expensive. You are hiring a theme designer to design a custom theme built entirely around your website or business. These can run anywhere from $100 all the way up to the $1000's based on the project. Only recommended for established WordPress websites with a decent following and NEED for a custom theme. You should also keep in mind that any changes or updates to the theme needs to be done by the original theme designer, or someone who knows their way around PHP and CSS/HTML, so even if it costs $1,000 for a customer built theme to start with, you might end up paying more money than the original $1,000 because over time you will want the theme to be updated or modified. 
Premium Themes – These types of themes are sold on websites like ThemeForest* and Elegant Themes* which are usually built by a team of developers and then sold to the masses on reseller websites. The themes can go from $15 for "standard" premium themes to $100 for the higher-end themes. These themes are usually optimized for SEO, loaded with features, have tons of options for customization, and normally come with free support and assistance if you run into any issues. The other great feature of using a premium theme is that the theme will most likely be updated every so often to keep up with website standards, normal SEO practices, and fixing and bugs that may come up with the theme itself.
* I'm always honest when it comes to my recommendations, and I just want to note that I do make a commission if you use my referral link to Themeforest or Elegant Themes. It comes at no extra cost to you at all if you buy something, and helps me support my web hosting costs. If you think one of these themes are best for you, go for it, just make sure you do your research and find the theme that's right for you. 
Free Themes – Most of them can be found here on the official WordPress.com site, unlike the other themes mentioned above, you really don't know what you're getting into when you use a free theme, but from my own personal experience so far they have all worked good enough. Not amazing, not horrible, just "good enough". The support you get with a free theme is little to none, usually the theme developer will have a FAQ page or something similar on their own personal webpage, but as far as support forums go, you can forget about it almost entirely unless it is a -really- popular free theme. Don't get me wrong, there are some real diamonds in the rough when it comes to free themes, you just need to spend some time weeding through the not-so-good themes to find the hidden gems. 
What to consider when choosing a WordPress theme
1: Cost – You want to consider your budget, first and foremost. There are a whole handful of completely free themes out there which will do the job for just about any part-time, hobby blogger. If you don't plan on making any type of income from your blog or website, there really isn't any point in purchasing a theme unless you really fall in love with one and absolutely have to have it.
2: Ease of use and customization – You want to be able to easily change the overall look and style of your theme without having to jump through hoops, use a PHP/CSS/HTML editor, or hire a freelancer to make minor changes. But how would you know if the theme is easy to use before you buy it? Normally, the theme sales page will have a "Preview Theme" option which will show you the different types of pages and post formats you can create with the theme. On the sales page for the theme there should also be a description as to what you can customize, from the colors, to the fonts, all the way to the individual page formats. 
In addition, you want to read the support forums relating to that specific theme. Look for reviews, either in video or blog format, which talks about the range of customization options that are available. 
3: Responsiveness – Did you know that in February of 2014 mobile traffic overtook web traffic for the first time in history? That means that there were more people using a cell phone to browse the internet than there were people on a computer. That's crazy considering just a few years earlier phones could hardly load a basic webpage. To have a responsive website means that the website will load according to the screen size of the device that is viewing the site. Here is a side-by-side comparison of a mobile non-responsive website, and a mobile responsive website that I visited with my iPhone: 
[column]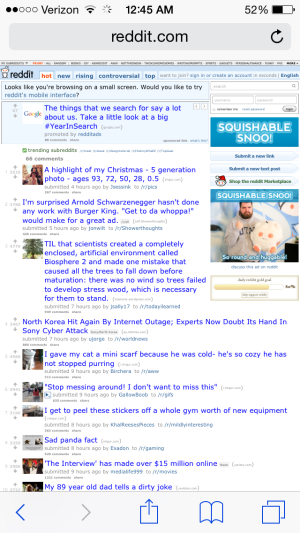 [/column][column]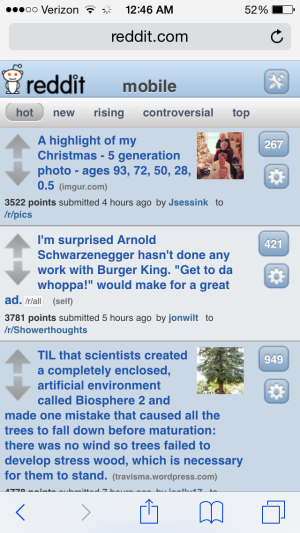 [/column]
So right off the bat, you'll notice that the non-responsive website has smaller text, and looks more like a shrunken version of a full webpage that you would normally visit on a computer browser. The responsive, mobile version of the website has larger text, larger buttons, and looks like it was designed for the phone's screen size. 
When choosing a theme you'll want a theme that automatically changes the layout and style according to the device the visitor is using. It's critical that this is at least offered in the theme you buy, as some theme sellers may hide the fact that the theme is not, in fact, responsive at all. Keep in mind though that just because a website isn't responsive doesn't mean it's bad, sometimes you need to have the full website viewable on all platforms if you have a special piece of content that requires it, but when shopping for themes, you should probably go with the one that at least has the option to make it responsive if you wish to make the website responsive later down the road. 
Ask yourself: Is the theme overkill?
People always ask me why I don't choose the theme with the most features or the most bells and whistles for my websites, and the answer to that question is that for my needs, the theme just isn't worth the time to learn everything about it, or spend time figuring out a specific feature that I didn't even need to begin with. So if you have a business that sells pinecones, ask yourself; do you really need the theme with 800 different color combinations, a parallax slider with integrated social media buttons on each page, 57 different post types and 42 homepage layouts? Probably not. Choose a theme that is effective, yet reasonable. This will also help out your customers and visitors, so that they can navigate easily to the content they want to see, and not be inundated with features they will never use. 
Tips and Tricks
If you own a hair salon, for example, and know that another hair salon has an awesome website and you want to know what theme they are using from WordPress, you can use this website called What WordPress Theme Is That? to find out what theme they are using. What's awesome about that website is that not only does it tell you the theme, but it also reveals the plugins that run in the background, which in some cases happens to be more important than the theme when it comes to gaining customers, improving SEO, and so on and so forth. It's a nifty tool to take advantage of. 
Reading the theme reviews, especially the reviews under three stars, will tell you what people have trouble with when using the theme's features. This, combined with wether or not the theme has a support forum or contact page, will tell you wether or not you'll be on your own when you start to use it. A theme creator who lists contact details in response to issues about their theme, responds to questions asked, and has a support forum is always a better choice over a theme with limited support and more frustrated customers. 
Take me to Step #3: COMING SOON!
As always, if this helped you at all, it would really mean a lot to me if you shared it with someone else who could benefit too!