Google Site Kit is a free plugin offered by Google that allows you to connect various Google services and tools to your WordPress site. It's a very good plugin but many site owners don't realize how much you can do with Site Kit (and how much time it saves you!). If you're building a website on WordPress, the Site Kit plugin is a must-have to save you time.
But first – how do I install Site Kit?
You can install Site Kit as long as you're an admin on your WordPress website – simply go to Plugins > Add New and search for "site kit". Make sure you install the official plugin from Google.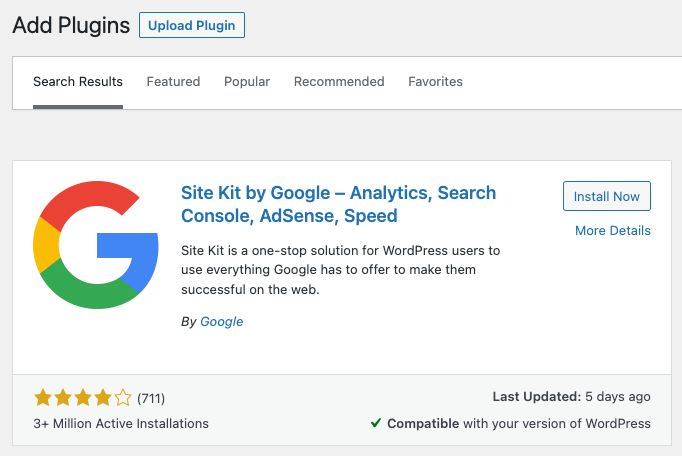 Site Kit has a variety of Google-connected services that you can choose to connect. To get the most out of the plugin, I'd recommend connecting all the Google services that you currently use. If you don't connect all of the services you use regularly, you'll miss out on helpful analytics and insights that otherwise you'd have to log in to the other Google services in order to see.
With Site Kit, you get a great overview right from your WordPress admin page, without having to log in to all the various services: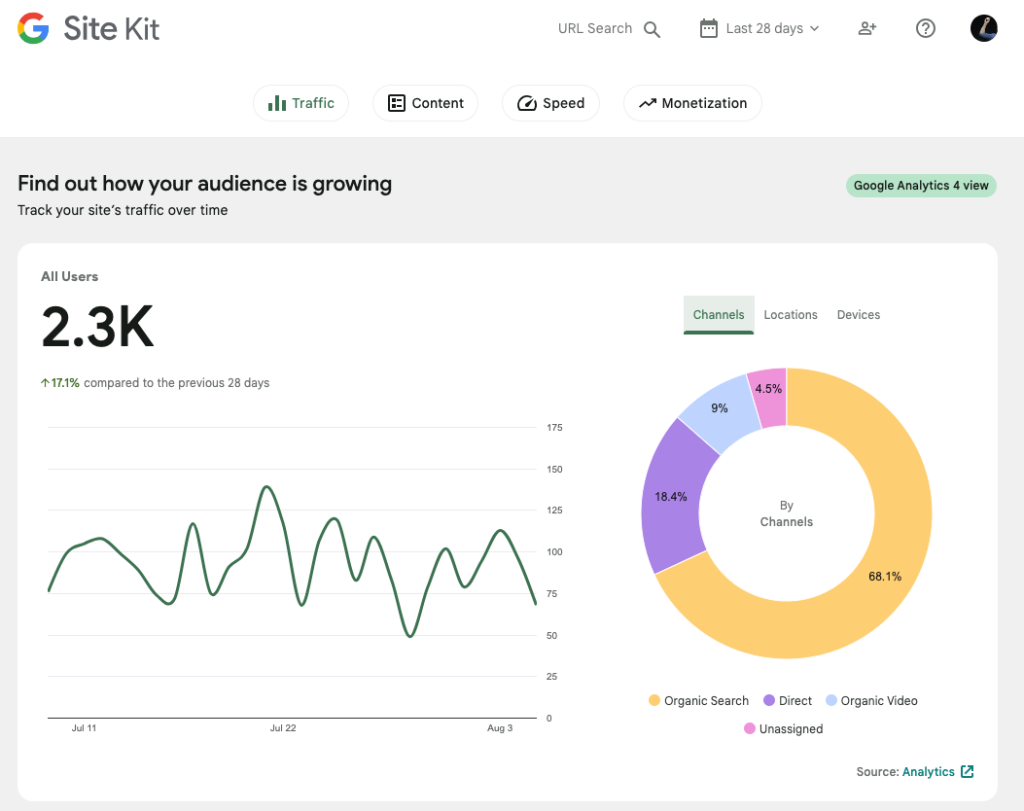 Tag Manager is the major benefit of using Google Site Kit
Tag Manager is an underappreciated tool that saves you a huge amount of time, but you need to first install Google Tag Manager on your site in order to use it. This usually requires you to add code in the <head> and <body> tags of your website – but with Site Kit you can skip this step entirely. Simply add the Tag Manager connection in Site Kit, and Site Kit handles modifying the code on your pages. Most of the recommendations or guides you'll find online on how to install Tag Manager require you to install another custom "Header and Footer" plugin just for the sole purpose of pasting your Tag Manager code. With Site Kit, you don't need an extra plugin to paste the code, and connecting your Tag Manager account takes seconds.
Site Kit gives you a single place to view your website metrics
If you're like me, you probably have a combination of Google tools that you use regularly. Analytics for, well, website analytics, Search Console to measure the SERP rankings of your site and content, AdSense to monetize your site and display ads. With Site Kit, you're given the ability to see all of your metrics in one place, right on your admin console when you log in to your site. It comes with the convenience of being able to share these metrics with other admins of your site – so no need to manage access on each tool if you want to give other employees or team members access to high-level metrics. Read more about all you can do with dashboard sharing here.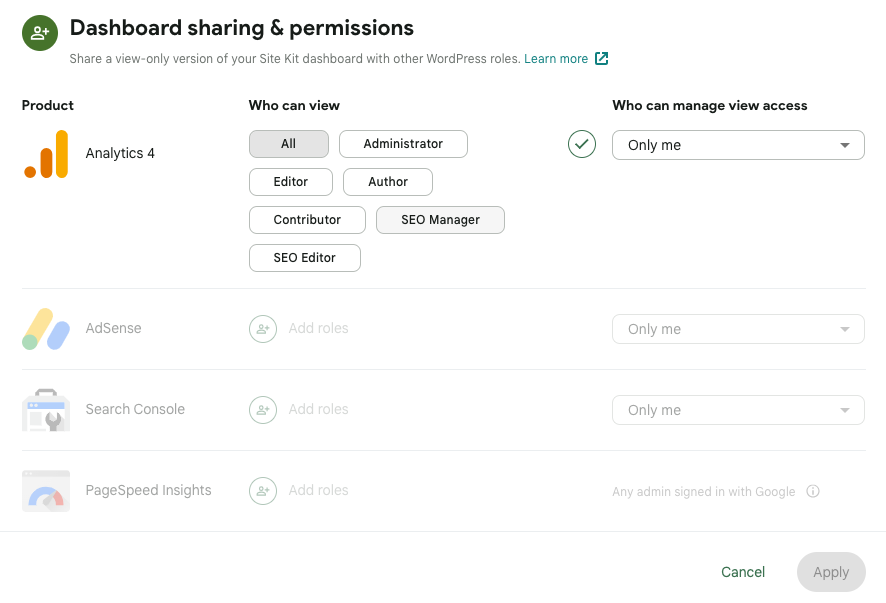 Keep tabs on your page speed and performance
WordPress sites do occasionally suffer from speed problems. Making sure that visitors visit your site and it loads quickly is one of my biggest priorities (outside of writing helpful content, of course). The performance section of Site Kit shows you two sets of data: Automated measurements ("In the Lab") and "In the Field" (this means what real users experience). Every few days, I look at the recommendations in this section to make sure that there aren't any glaring issues. Site Kit has recommendations on how to improve the performance based on issues detected as well. If you're looking for other ways to speed up your WordPress website, check out this guide on how to make your WordPress site faster in addition to the resources provided by Google.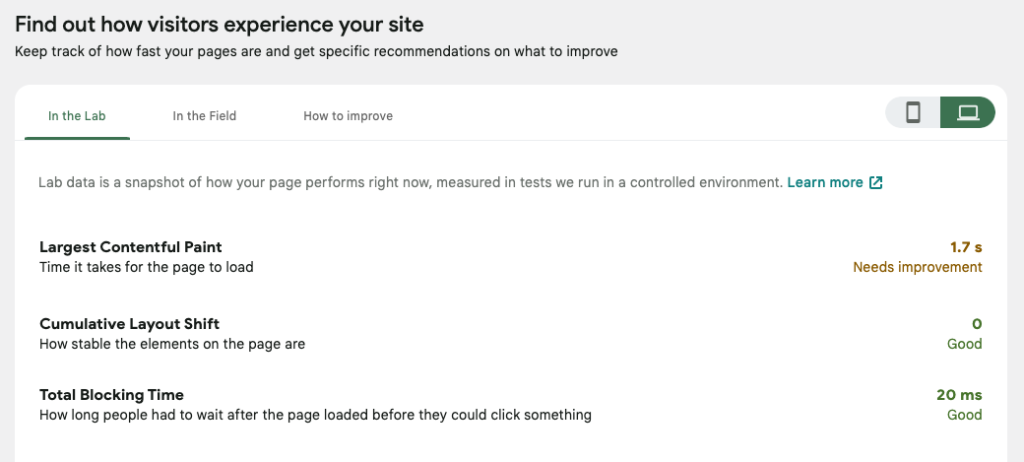 There are a few features that I'd like to see in Site Kit going forward – for one, the ability to add your ads.txt file using Site Kit would be a welcome addition to the plugin – right now you have to do this manually which requires a whole other process to add an ads.txt file to your site. If Site Kit could import the ads.txt file directly from AdSense, this would be a welcome addition.
As of August 2023, you can only view the past 90 days of history in Site Kit. If this could be extended, that would be great, and could completely replace my need to visit Google Analytics altogether (because let's be honest… GA4 just is not that great).
If you're having issues with Site Kit, or your dashboard isn't displaying any data, check out the common issues that other Site Kit users ran into with this troubleshooting guide. You can also leave a comment on the plugin page or check for an open issue on the Site Kit Github page.