If you're looking to send email marketing campaigns to your audience, you have a lot of options to choose from. The top contenders for email marketing are Mailchimp and Klayvio. We'll take a deeper look at the features of each solution, understand the pricing options, and give a few suggestions to see which service is best for you and your business.
Key Takeaways
Klayvio has a wide range of pricing options to suit your business marketing budget.
Similar to Mailchimp, Klayvio offers audience segmentation allowing you to target specific audience groups.
Both platforms offer automation tools that allow email and template customizing, with Klayvio offering some additional automation options for its free plan.
Although Mailchimp offers over 300 unique integration options, Klayvio still offers a wide range of integration options to suit your specific needs.
Klayvio only offers email and live chat support to paying users, with no phone assistance options for higher paying tiers.
Klayvio and Mailchimp offer advanced analytics and reporting with Klayvio offering the service across all paid tiers.
What is Mailchimp?
One example of a small to medium business-oriented marketing platform is Mailchimp. Mailchimp is a common default option for most small businesses and entrepreneurs, and perhaps one of the most well-known marketing platforms in the world. Advertised as an all-in-one marketing platform, Mailchimp is a simple tool used to send marketing emails and automated messages directly to a targeted audience by use of ad campaigns, custom landing pages, postcards, and built-in analytics to help you better understand your reach.
What is Klayvio?
Klayvio is a platform that helps businesses automate their sales marketing processes by allowing users to create automated marketing campaigns, sales funnels, and other processes that streamline their operations.  
Pricing and Costs
Mailchimp Pricing Plan & Costs
Mailchimp has a free plan that allows you to try out the service and send a maximum of 1,000 emails a month. There are also three paid tiers, with prices ranging from just under $11 for the Essential Package, $20 for the Standard Plan, and $350 for the Premium Marketing Plan. The difference in packages is quite substantial, but for businesses just starting with limited access to cash flow, the free option offers immense value and is an attractive option for new clients. Keep in mind the prices quoted above are for 500 contacts. The More contacts that you have, the more Mailchimp will cost. This is important to keep in mind as your mailing list and audience grows.
Klayvio Pricing
Klayvio offers many price points that can be tailored to your budget and business requirements. The free version, which is perfect for getting started and testing Klayvio as a platform, includes features such as 500 monthly email sends, a built-in customer data platform (which collects real-time data, combining it into an in-depth customer profile creating a unified view of who your customers are), 150 free monthly SMS/MMS credits, as well as email support for the first 60 days. It also includes 250 contacts. 
For $45/month the number of contacts is bumped up to a maximum of 1,500 contacts, with the price varying depending on the number of contacts needed, and the number of emails increasing to 15,000 monthly. The email and chat support service is also available beyond the initial 60 days as offered by the free version. 
The next tier is $60/month and includes 1,250 monthly SMS/MMS credits in addition to all the features included in the second tier. There is a sliding scale of 43 different options that determine the price to be paid based on the number of contacts and number of SMS/MMSs required, ranging from 150 SMS/MMS credits up to 450,000 credits, with the price being adjusted for each of the options, ranging between $45/month and $3,870/month. 
There are over 50 levels of contacts to choose from, ranging from  0-250 contacts (for the free version) to 145,001 – 150,000 contacts, which would push the price up to $5,780 depending on the number of SMS/MMS messages you need to send. You will be able to send 1,500,000 monthly emails with this option.
Should you not require SMS/MMS services, you also have the option of paying a monthly $1,955/month for the highest level of contacts (145,001 – 150,000), however, you may send 1,500,000 monthly emails.
Mailchimp
Free Trial Available?
Yes, forever free, up to 1,000 monthly email sends
Pricing Tiers
Three paid tiers are available, based on contacts in your subscriber list, and the number of monthly email sends that you perform
---
Mailchimp "Essentials" plan:
$13 per month
5,000 monthly email sends
3 users (to use the platform)
24/7 Email & Chat Support
No Custom-Coded Templates
No Pre-Built Journeys
Klayvio
Free Trial Available?
Free option only available up to 250 total contacts.
Pricing Tiers
Pricing depends on your total number of contacts. The price below reflects the cost of up to 500 total contacts. If you have more contacts, the price increases substantially.
---
Klayvio "Email" Plan
$20 per month
5,000 monthly email sends
150 free monthly SMS/MMS credits
Email and chat support are available
All plans include A/B testing features
No SMS Automation Features
Email Templates
Mailchimp Template Options
Although there are limited email template options on the free version of Mailchimp, the Standard package, which includes all the pre-designed templates offers more than 100 templates and designs to match any message. The templates are customizable to your business, but users are unable to edit the template's underlying code. It is entirely possible for coders to import their own custom code in the form of a zip file or HTML. Although Mailchimp allows you to create templates by dragging and dropping content, you would need some level of image editing skills to make the most of the platform, keeping in mind that the classic templates are not nearly as responsive as the drag & drop templates.
Klayvio Template Options
Klayvio has a really cool feature called the Klayvio Showcase where you can see some of the top-performing email campaigns by different brands, and then use these emails for a similar design for your own campaign. Klayvio has a huge variety of templates to choose from, and these templates can be easily filtered based on the purpose of your campaign. If you want to send a newsletter, for example, just select the option from the "Filter by" dropdown and you'll get templates tailor-made for the purpose of sending out a newsletter.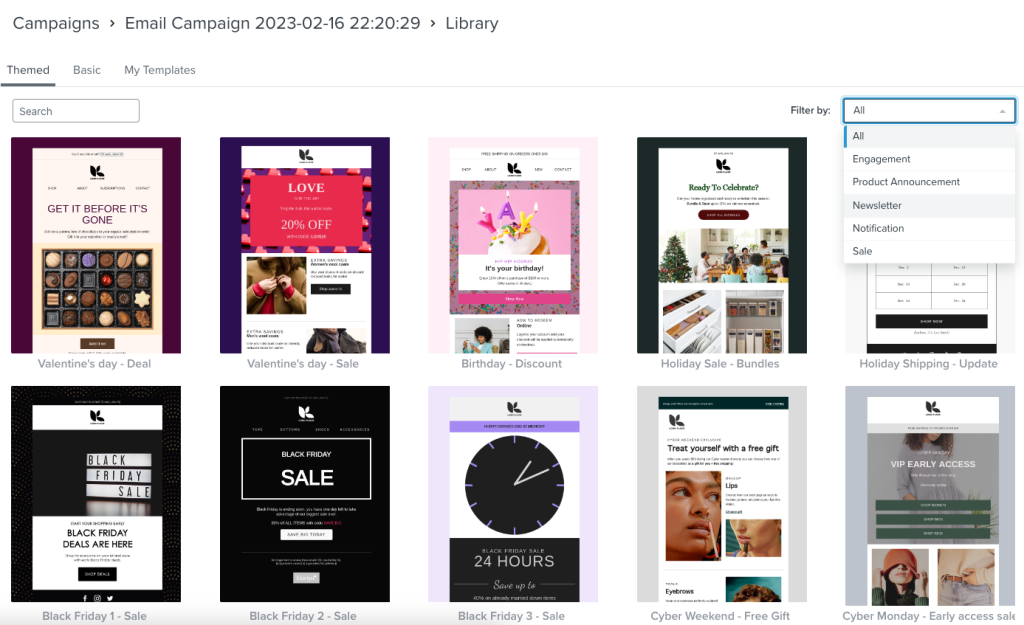 Audience Segmentation 
An important part of online marketing is the ability to segment your audience. Mailchimp provides the tools to divide a list of subscribers into smaller, more targeted groups based on common customizable characteristics, allowing the marketer to create a more personalized campaign and messages particular to each segment.
The process of audience segmentation is simple, starting from the Mailchimp dashboard, and with a few simple steps one can create segments based on a range of personal information such as an address, contact rating, birthday, last name, location, etc.
Klayvio utilizes machine learning algorithms enabling businesses to identify and segment audiences based on a variety of criteria, such as demographics, interests, behaviors, and psychographics, which allows for a more tailored marketing campaign, leading to higher conversion rates.
Segments for audiences that can be created with Klayvio include location-based, cross-sale, churn risk, holiday shopper, and engagement tier segments, to name a few.
To create an audience segment on Klayvio, follow these steps:
From the Klayvio Dashboard, on the Home tab, select Lists and Segments and then Create List/Segment.
Select Segment, then  you will be able to name your segment, and add tags as well as a definition. To finalize click on Create Segment.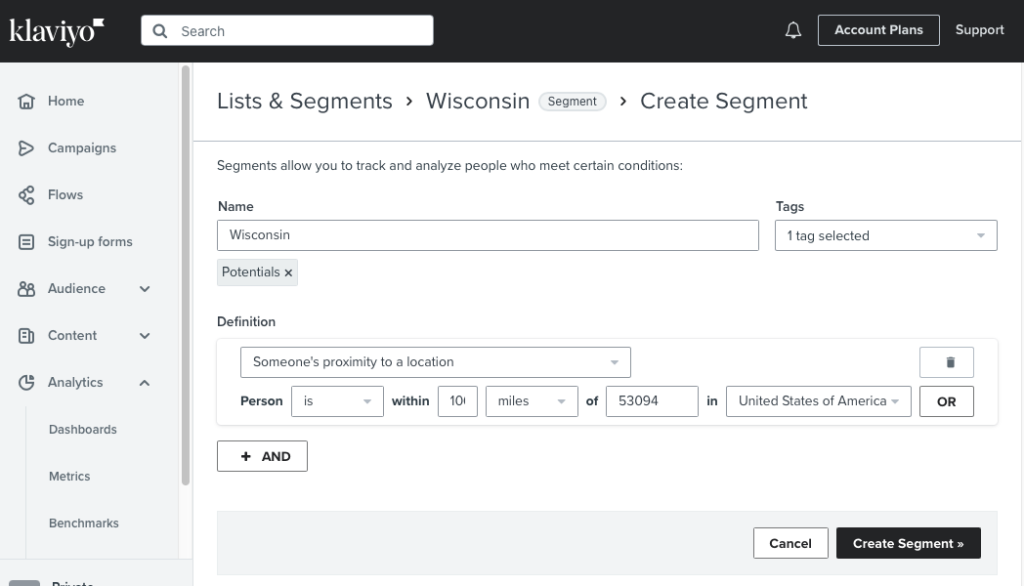 Automation 
With Mailchimp, you are limited to a set number of preset automation types that can be tailored to your campaign goals. It's also possible to create your own custom triggers which could expand on your limited options as it is possible to expand on the limited classic automation to a more custom setup. For a full list of all classic automation triggers, see this list.
Similar to Mailchimp's automated functions, Klayvio offers auto-scheduling for emails and SMS messages, automated segmentation and automated lead nurturing (e.g. welcome messages and thank you messages after a purchase), drip campaigns, and lead scoring, which increases efficiency. In addition, Klayvio also offers automated web push notifications whereby a more customizable push notification containing emojis and tags, can be sent through campaigns.
Klayvio also offers advanced pre-made automation flows and many more automation features in its free plan than Mailchimp's free option.
Integrations & Add-Ons 
Mailchimp offers over 300 integrations, including Shopify, WooCommerce, Social Media (such as Facebook and Instagram) integrations, and many more. Integration is simple and done from the user dashboard, by simply selecting Integrations and adding the desired integration.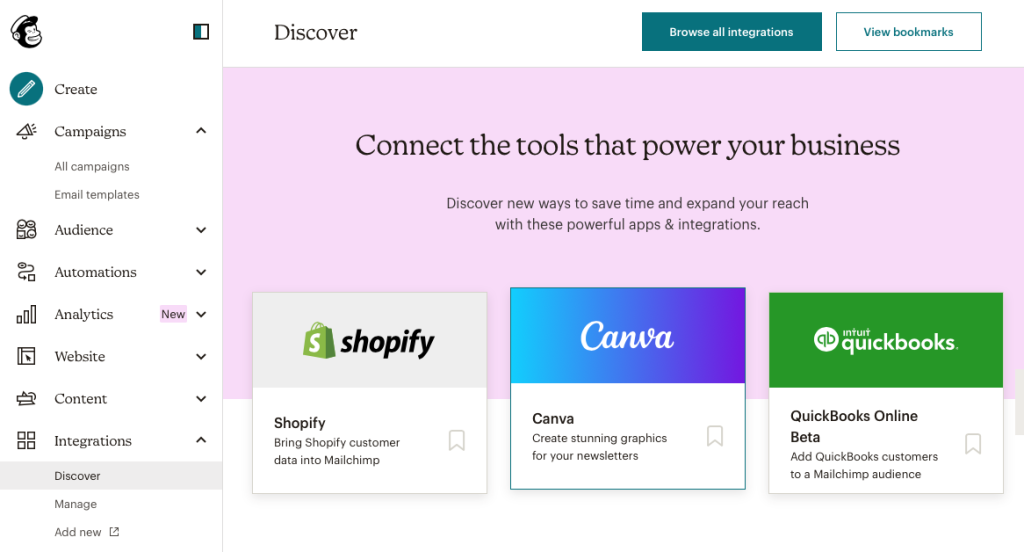 Klayvio offers slightly fewer integrations at just over 200 integration options with popular eCommerce solutions such as Shopify, and email marketing platforms like Mailchimp, ensuring that businesses keep their customer data updated and accurate while leveraging the power of Klayvio's platform to deliver effective marketing campaigns. Integration on Klaviyo is also done from your online profile, which showcases all the available integrations.
Support and Customer Service 
Mailchimp offers free basic support as well as a wide range of tutorials, guides, and FAQs. Mailchimp also provides a Knowledge Base where customers can access more detailed support information. Email support is available on the free tier for a period of 30 days after signup, with 24/7 email and chat support available on the Essential and Standard packages. For active businesses with a robust email list and higher email frequencies, Mailchimp offers Phone and Priority support should you be willing to pay for the Premium package.
Overall, there is a general dissatisfaction with Mailchimp's customer service and according to customer feedback, their overall customer and support service leaves a lot to be desired. One user went as far as to suggest that Mailchimp's customer support is a serious issue that needs to be raised constantly until they address the problem. 
For 60 days from signup, Klayvio offers email support for free users, whereafter support will be limited to the paid options. Again, depending on the price plan selected, support is only for the paid options (with the cheapest starting at $45/month), and provides the user access to email and chat support. The live chat support is only available between the hours of 9 a.m. – 5 p.m. ET Monday through Friday, with the free users having 24/7 access to Kira, the virtual chatbot.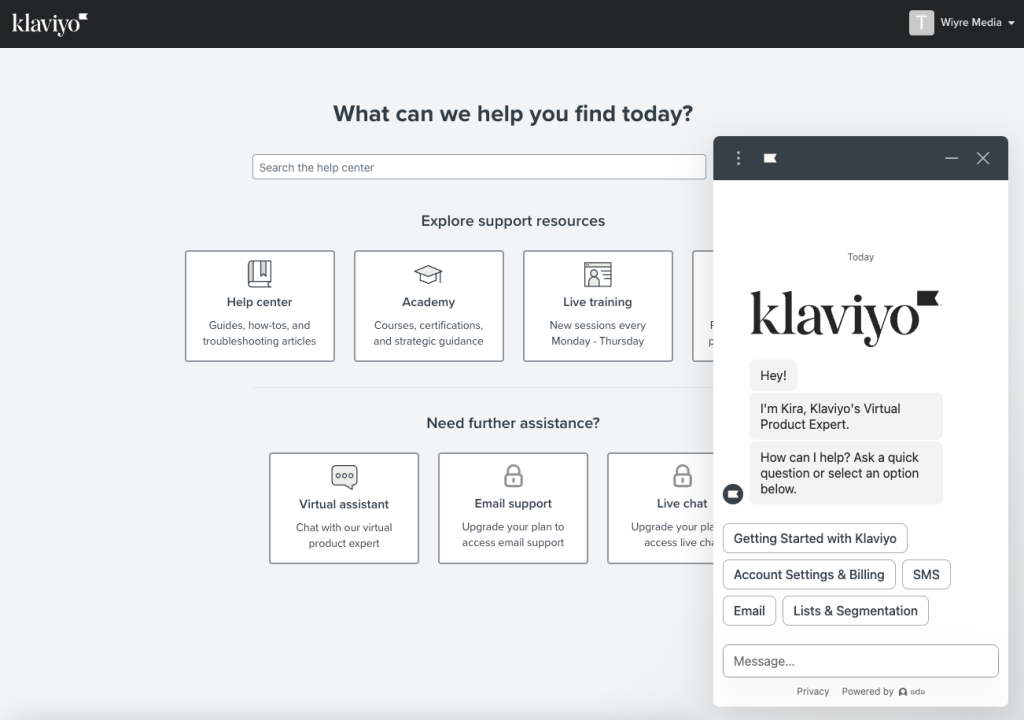 Reporting & Analytics
Klaviyo has a cloud-based reporting and analytics platform which enables users to easily create dashboards, generate reports and perform data analysis. With an intuitive interface, Klaivio makes it easy to create and share visualizations and insights once you have data flowing, and offers detailed customer behavior reporting. 
Klayvio also offers pre-built, custom reporting that enables you to better understand your campaigns, flow, and product performance, allowing you to isolate your data so that it makes sense for your business needs.
Reporting is available with each of the paid tiers as a basic feature, and you do not have to subscribe to one of the higher tier options to access its powerful analytic tools.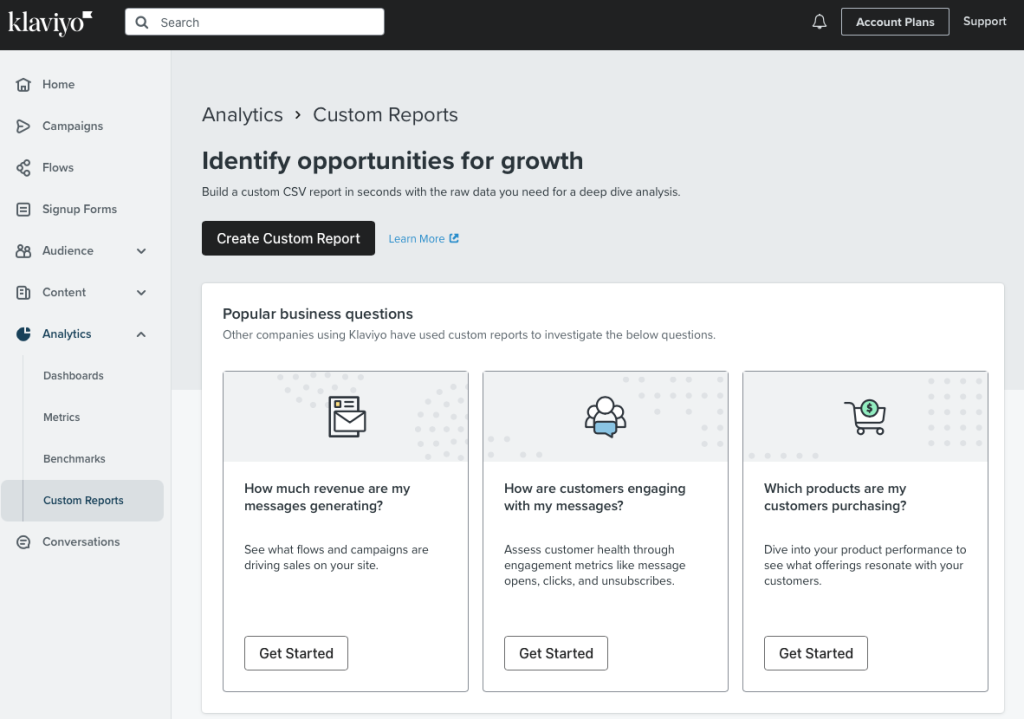 Mailchimp offers basic metrics on the growth of your email list and the campaigns you send out but is not as advanced when compared to the features of Klayvio.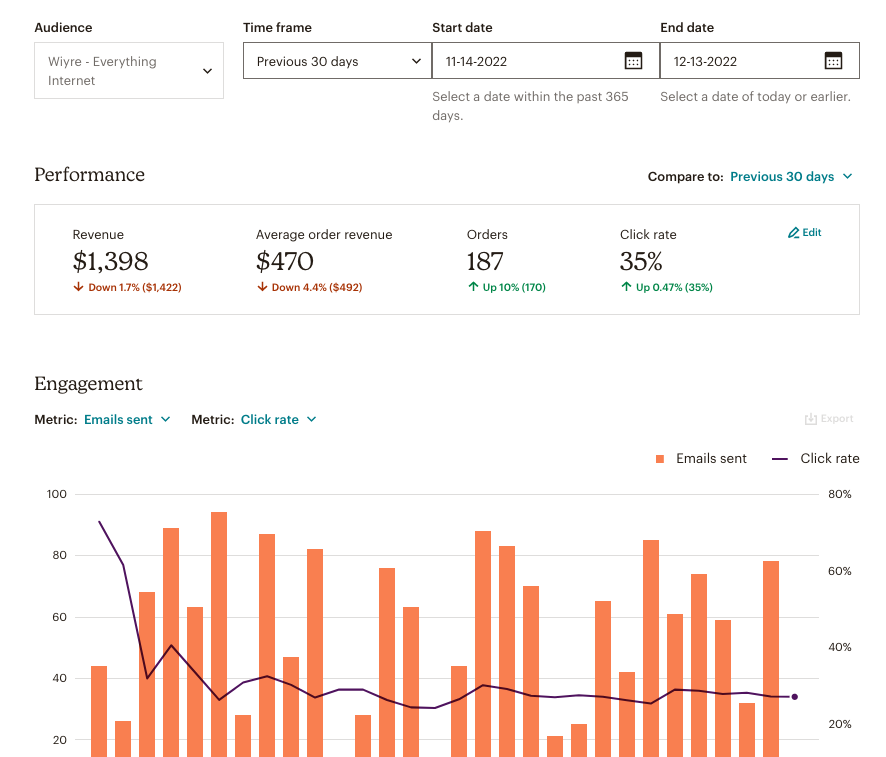 Overview & Conclusion
Mailchimp and Klayvio are two of the most popular and powerful email marketing platforms available today. Users can develop expert email campaigns and manage their contact lists with Mailchimp, whereas Kayvio provides a full range of tools for building and automating complex email campaigns. To assist users to save time and improve their email marketing operations, both systems are user-friendly and offer a variety of features and connectors. Regardless of your size, Mailchimp and Klayvio can assist you in achieving your marketing objectives. These two systems are ideal for any company trying to get the most out of email marketing because of their powerful features and good customer support.