You see it everywhere – recommended on every "Make Money" and "Personal Finance" website – taking surveys can make you money, from the comfort of your own home! But is taking surveys actually a way to make money, or is it an overhyped waste of your time?
The reality is that survey sites are not worth your time, and there are much better ways to make money online than spending hours meeting minimum payout thresholds to cash out on a couple bucks. Before we get into the data behind how much you can make per hour from survey sites, we first need to understand why surveys are promoted so prolifically throughout all the personal finance blogs out there on the internet today.
Why Does Everyone Recommend Survey Websites?
There's an abundance of finance and money websites out there that recommend you take online surveys. These are bloggers and personal finance guru's who have made a ton of money online, if they are recommending survey sites as a way to make money, it has to be legit, right? WRONG! Usually, it's not that these people are trying to lie to you, but their reason for promotion comes down to misaligned incentives.
Bloggers and personal finance websites are financially incentivized to promote survey websites because of the affiliate marketing income the websites makes when website visitors (AKA – you!) signs up to a survey website through an affiliate link on the website that directed you to take surveys. It usually amounts to a couple dollars for the website that sent you to the survey website – but this can seriously add up if you have a popular blog. Take a look at the income reports of some of the top personal finance bloggers out there – here's an example of their earning reports:

Promoting survey websites is a big business with a lot of money involved, and some of the top affiliates make thousands of dollars a month, while never actually using or testing out the survey websites they promote.
"Ok – affiliates make money promoting survey sites online – what's the big deal as long as I can make money from these sites?" Take a look at some popular personal finance blogs – you'll start to notice an interesting trend: Survey Junkie and SwagBucks are always at the top of the recommendations! In some blogs, these websites in particular are even "featured" or listed as the site where you can make the most from taking surveys. Some blogs have links at the bottom of every single one of their pages – even if the page itself has nothing to do with surveys.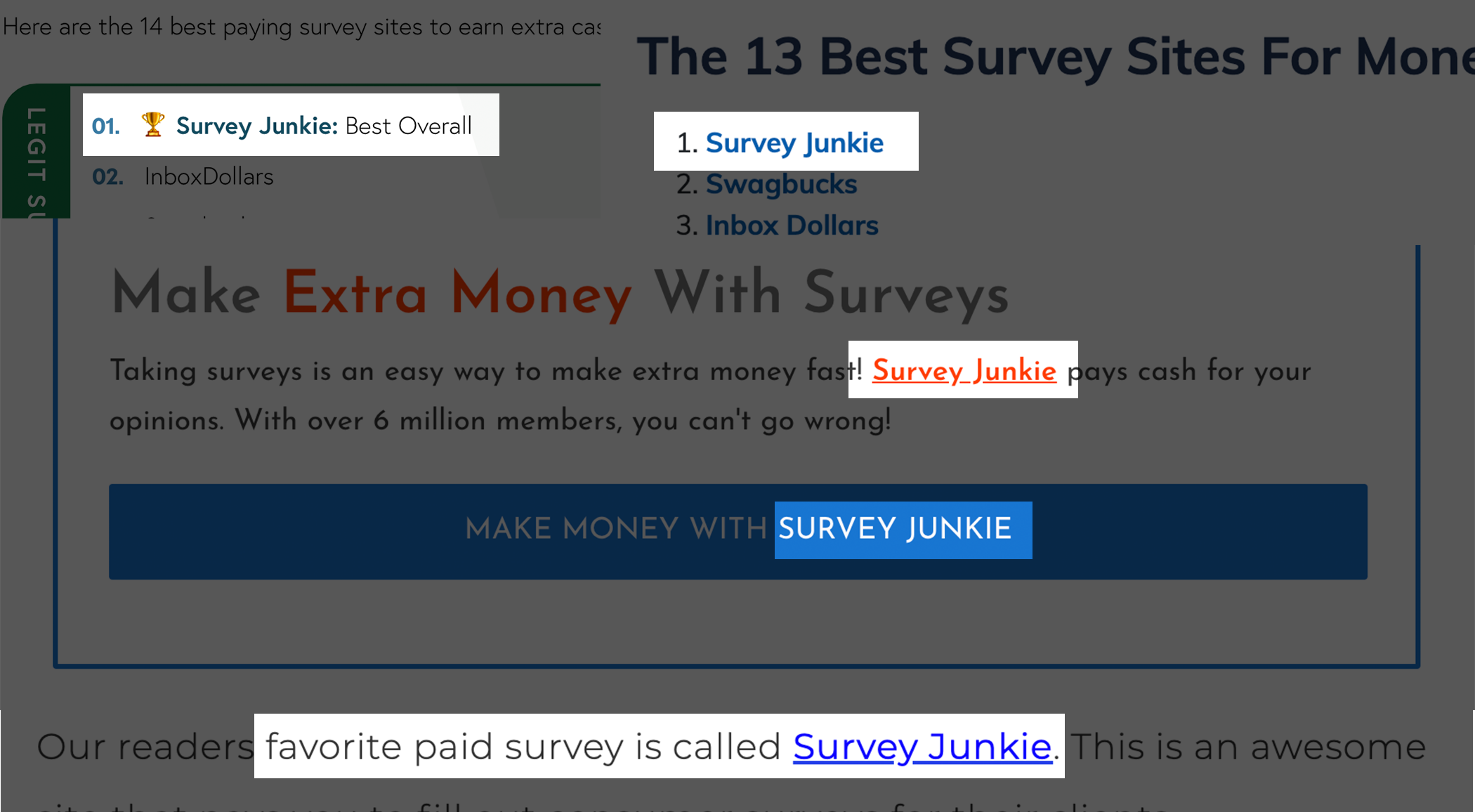 Why are so many blogs promoting Survey Junkie and SwagBucks? It's because Survey Junkie and SwagBucks pay out the most money to affiliate marketers for every successful referral. It's not because they are the best survey sites – it's just because the person recommending these websites stands to make the most money compared to other (or better) survey sites that may be a better option for the person taking the survey.
How Much Money Can You Make From Taking Online Surveys?
There are legit survey websites that exist that you can make money from. But even though these websites are "legit" in that you can earn some money – it's not worth the time, effort, and information you give to advertisers and marketers in the process. NerdWallet did a study where they spent 50 hours on various survey websites, taking surveys, entering personal information in forms, and only managed to make a couple bucks after 50 hours of work.
The federal minimum wage is $7.25 per hour, for example, and our hourly earnings ranged from 41 cents to $2.03.

NerdWallet – Surveys for Money: Here's What We Earned
Let me make something very clear – the most money they made per hour from doing surveys was $2.03 per hour. That's an incredibly low amount – much lower than if you simply took a minimum wage job. Take a look at the chart below – it takes the highest cash-out possible from taking surveys from the NerdWallet study, and compares it to what you would make from a minimum wage job:
| Hours | Taking Online Surveys | Minimum Wage Job |
| --- | --- | --- |
| 1 | $2.03 | $7.25 |
| 5 | $10.15 | $36.25 |
| 10 | $20.30 | $72.50 |
| 25 | $50.75 | $181.25 |
| 100 | $203.00 | $725.00 |
| 500 | $1,015.00 | $3,625.00 |
Taking online surveys at $2.03 per hour vs. working a minimum wage job at $7.25 per hour
Even if you made the most money per hour (which is already unlikely to happen) from taking surveys and were super efficient, you still would make just a fraction of the income you would make from a minimum wage job.
Avoid Common Survey Scams
Some surveys ask personal information, such as your name, address, phone number, etc in order to submit a survey and get paid. Sometimes you'll even be enticed to fill out surveys which specifically ask you how much income you make, or other personal information like the state of your finances, relationships, or religious beliefs. Be careful in giving up this information online – you have no idea what is done with this information, and it may be used for marketing purposes or more nefarious purposes, depending on the organization conducting the survey. It's best if you're able to find a privacy policy for each survey that you fill out to see what will happen with your information, but this will take a lot of time to review each policy, and again, there are better uses of your time.
It's common to expect a survey to collect your email, so I'd recommend to always create a throwaway email before you fill out a survey online (you can use 10minutemail.com, or create a new Gmail account just for the sole purpose of creating surveys).
If a survey requires you to pay money or enter your credit card details before you can submit the survey, it is a scam. Do not pay to take surveys – surveys should be paying you!
Are There Legit Survey Websites?
Yes, there are survey websites that you can earn money from, but keep in mind – you're much better off getting familiar with other money making methods instead of taking online surveys. Nerdwallet has a full list of reviews for various survey websites if you really want to try your luck with surveys.