Reviews
SpyFu – A Complete Review (2016)
---
New look, new features, whole new playing field
SpyFu proves it has what it takes to be a go-to SEO/SEM tool for professionals, and then goes beyond
Accuracy of Data
Customer Support
Ease of Use
Value for Money
Number Of Tools + Services Offered

Final Rating

I'm adding SpyFu to my list of "must haves" for everything SEM/SEO/PPC and the various offshoots of online advertising
Pros
SpyFu comes equipped with a huge variety of powerful tools for all experience levels and demands. Beginners will find that the presentation of data is easy to understand and enables you to clearly see what your site lacks in terms of keyword strength, advertising efforts, as well as your top keywords and pages that set you apart from the competition. Advanced users and SEO agencies are able to do advanced keyword tracking and comparison, all exportable to Excel for client reports and further extrapolation. In addition, SpyFu filtering features make it really simple to see different segments of data and exclude unwanted data from the search results, making keyword research much faster and less time consuming.
Cons
Support is pretty much only available via chat and email. Good luck trying to reach someone on the phone. Another disappointing issue I noticed is that other SEM/SEO tools pick up on more backlinks than what SpyFu displays. This may be a result of only trying to scrape the best backlinks they can find, but I'd rather have a list of all the backlinks instead of 75%. Another issue is that the data is refreshed every month, instead of other tools updating their database every week or sometimes each day. Other than that – the user interface is really simple, some may say too simple, depending on the user. Agencies may be turned off from the bright colors and… well… easiness (if that counts as a con).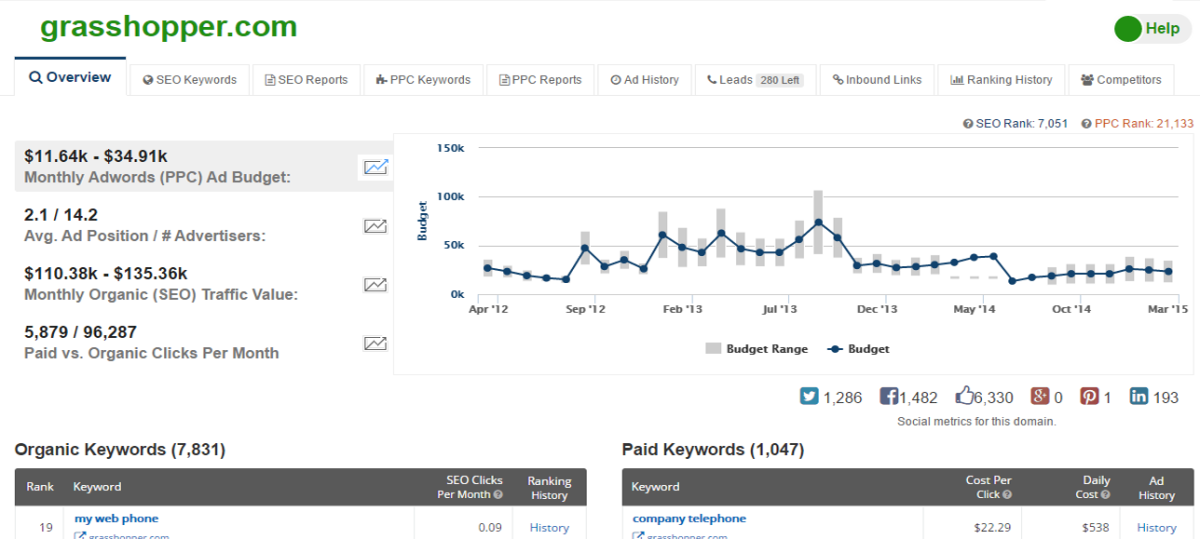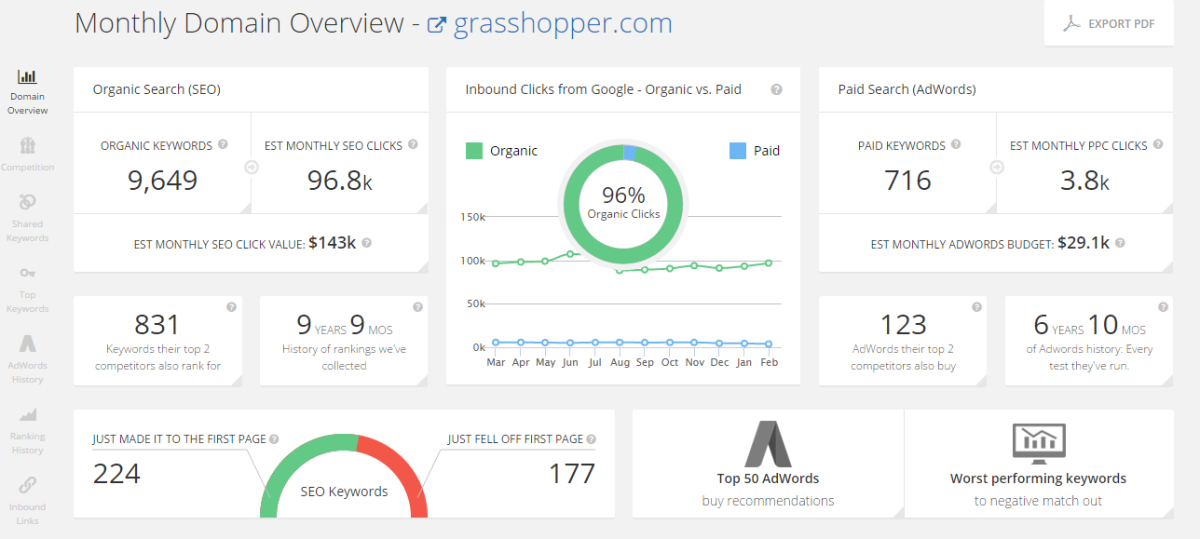 SpyFu Overview
SpyFu changed a lot in the year 2016 – some notable changes that you will immediately notice when you first land on the homepage is in the design of the site: it looks almost completely different, and for the better, in my opinion. The design is not the only thing that has changed, there are some deeper changes as well that are more data driven which will really appeal to the SEO guru's out there. Most notably – SpyFu added new metrics such as keyword count, SEO rank recent moves, and a split between the reporting of SEO and PPC data so you can focus on each one independently of each other. (This was a requested feature from many users who stated that they focus on each one independently.)
SpyFu Kombat™ also got an overhaul. If you're unfamiliar with Kombat, imagine the ability to visually see what keywords are exclusive to your site in graph form, as well as what keywords you share with your competitors. Kombat, for those of you who have been in the industry since 2005, used to be called GoogSpy – but re-branded into Kombat around 2008.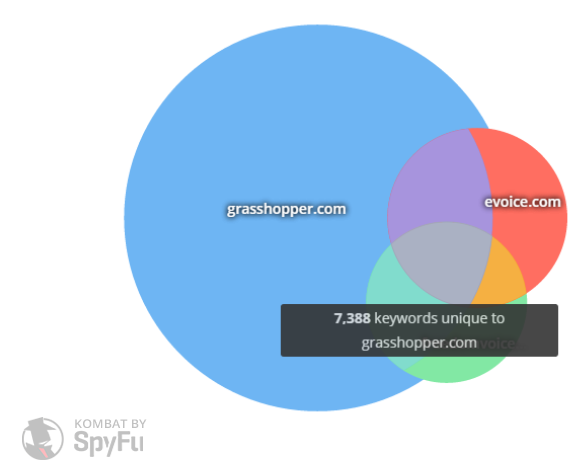 Types Of Services & Tools Offered
Diverting away from some of the older features – let's instead take a look at the notable features that makes Spyfu stand out from the competition and secure its position as a go-to tool:
Backlink Competition Analytics – Enables you to see what backlinks are most valuable to your domain, as well as the estimated traffic from said backlink.
Ad History Rollback – With the paid plan, SpyFu enables you to go back in the time and see every ad that has ever been collected in the database.
Top Lists – See which websites get the most organic traffic, most expensive keywords, most advertised keywords, and most amount of searches. Also – Filter these lists to see what keywords are relevant to your project or niche.
Ad Spend + Ad History Changes Over Time – See what your competitors use for wording in their ads, as well as what ads they have stuck with over time. Using this tool as I described in this video gives you a valuable insight as to what ads work the best, or are the most profitable for the company.
Client Report Generator – Makes it easy to combine your predefined pieces of data together and present it to a client. You can see an example of one of these reports here.
Full Tutorials For All Tools – Not sure how to use a specific tool? SpyFu has a whole library of walk-throughs and tutorials available so you can take full advantage of your subscription.
AdWords Advisory – SpyFu lets you generate an advertising campaign strategy based on the strengths and weaknesses of your domain, and then gives you advice on how to go about advertising and be more profitable with your ad spend dollars.
Pricing + Value For Your Money

There are three main pricing tiers that SpyFu offers. Within those three tiers is the monthly cost and yearly cost if you pay up front. Of course, if you pay the annual plan you will pay less overall for the year instead of month to month. For larger agencies, you have the ability to contact them directly to ensure that SpyFu will be able to meet your needs.
If you do decide to go and purchase a plan, keep in mind that there is a 30-day money back guarantee with every purchase. So, if at the end of 30 days you're not a fan, they will refund you your money back. Don't believe me? The founder made a video in person telling you so. 
You'll find that other services such as Moz or SemRush start at $99 and $69, respectfully, so SpyFu is cheaper in comparison and even at the lowest tier, still provides more keywords than both of the other two services. (Yes, I am aware there are more platforms out there other than just Moz and SemRush, but this was just to give you an idea of the pricing comparison between two other industry tools).
Customer Support + Other Resources
SpyFu offers online chat and email support through its website – but no phone support that I can find. This is, understandably, disappointing especially if you prefer to be on the phone and talk to a live person, but I've found that usually the chat is available all times during business hours and any emails sent take at minimum one day for a response.
As mentioned above, there is a huge wealth of information available in the resources section of the site which covers, in depth, each tool and how to make the most out of every feature. If you have trouble with a feature, they usually have a video that accompanies each article so you can watch and understand it that way as well. I'm really surprised at the scope of the tutorials as well – they have everything from beginner SEO 101 to deep link-building techniques and tactics for competitive intelligence when you need to find your competitors. (One downside: Some of the tutorials are out of date or past their prime, because the landscape of SEO changes so rapidly year to year. They could hire some additional writers to bring their content up to speed with the rest of the site, and it would be a welcome improvement).
Niche Site Owners: You'll find that SpyFu is especially useful in the tutorial section for helping you find high-cost keywords that rank easily, giving you the ability to gauge the difficulty right from the results page and plan your next niche site around that keyword based on the data SpyFu provides. It may save you some time and money in the long run when you're determining your next authority site or niche.
Final Thoughts & Conclusion
I'm really impressed with SpyFu. I use a bunch of tools from a lot of different SEO/SEM companies, and what really stands out for me with SpyFu is that a good portion of the data provided is available to see and use without a subscription. With that said, if you're thinking about taking keyword or PPC research seriously, you'll obviously benefit from the paid subscription – but take a look yourself at the sheer quantity of data provided, and the value for your money. I'll be surprised if you can find a competitor that provides so much for that type of pricing.
In closing, I'm adding SpyFu to my list of "must haves" for everything SEM/SEO/PPC and the various offshoots of online advertising. They really have their stuff together and I'm excited to see what the future holds in terms of refining their tools and adding even more time-saving features.
Full Disclosure: I am in no way associated with SpyFu itself and am not an employee, however, I do make a commission off of every sale that I refer to them, at no cost to you, the customer. If you do decide to go with SpyFu, that's great! Otherwise, there are many other tools out there that will do the job for you. I only review products that I personally use and would recommend to a friend, regardless of how much they cost or payout to me in commissions. If you have questions about this you can send me a message through the contact form and I'd be happy to answer any questions you might have about my involvement. Thanks for supporting Wiyre! 
Summary
Reviewer
Review Date
Reviewed Item
Author Rating