E-Commerce
5 Reasons to use Shopify to Grow Your Online Business
---
I switched over to Shopify from the now-defunct MagentoGo platform about a year ago because Magento announced that their MagentoGo service was closing down. It was perfect timing, I had become increasingly frustrated at the complexity of performing what I imagined to be basic tasks with MagentoGo, to the point where I neglected certain features on my E-commerce website that I really wanted just because I knew it would be a hassle to implement. Don't get me wrong – Magento had a working product, but it just wasn't fit for a beginner, which is probably why it was shut down.
I originally hadn't heard of Shopify, but since I was forced to change E-commerce providers, I began doing research about the different types of E-commerce platforms available and what each one had to offer. After researching the company and the features that Shopify offered, I realized very quickly that I had found the perfect match. Shopify is, simply put, the dream I had when I originally started selling products online. I've compiled seven ways that Shopify changed my business, and how it can change yours too. 
1: It's easy for beginners, but contains advanced tools for the pros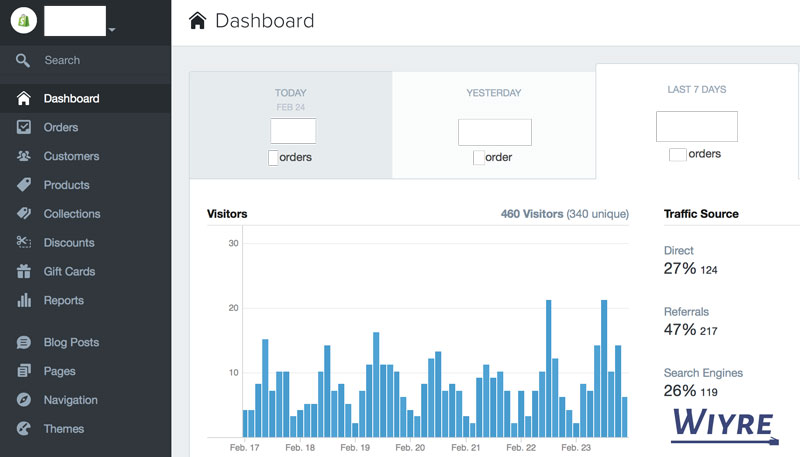 Shopify makes it super easy for anybody to sell items online. The content management interface (CMS) like the one you see above is very straightforward, showing you in plain English exactly what you need in terms of adding products, adding discount codes, modifying the theme and layout, and checking the stats for the website. You can easily open up the admin dashboard at the start of the day and see where your sales came from, as well as your top-selling products. I personally use the visitor graph to see when the most people come to my website, so I can plan when to release new products and blog posts. 
2: No coding required – but functionality still exists for more experienced users
Shopify focuses on being easy to customize for people unfamiliar with HTML and CSS. Themes and plugins are one-click installs, so you don't need to know a thing about copying files from one place to another, code editing, or any of that stuff if you don't want to deal with it. Every theme comes with its own set of features you can customize, from the text type to the color scheme. For advanced users, you can modify the theme CSS files directly from the Shopify admin panel, making it easy to make changes on the go without having to boot up a text editor. Note: (If you do use a text editor, my personal recommendation is Sublime Text, which you can download and use for free). 
3: Support is Free, Available 24/7, and Awesome!
Shopify comes with free support. While this is great, I know what you're probably thinking; "Free support is great, but is the quality of the support any good?" the answer is yes. A very strong yes. When I first setup my store I had so many questions running through my head I had a whole notepad of questions that I couldn't find the answer to, so I called up the Shopify support line (they are available via phone, chat, or email) and only had to wait 5 minutes before I was connected with a really nice, really patient Shopify support member who went through each and every one of my questions and even suggested some awesome apps to improve the features I was trying to achieve with my store. I owe it to you Henry, if you're reading this, thanks for putting up with me! 
4: There is a plugin or app for (almost) everything. 
Shopify is smart. They allow developers to create plugins for customers to improve different parts of their stores. There is a plugin for nearly everything, and more are being added everyday. Personally, I'm a huge fan of Ordercup (for shipping products) and Shopify Reviews. They don't care if people use their plugins or 3rd-party developers. The 3rd-party developers get the benefit of making money off of plugins, and you as the customer have the benefit of increasing conversion rates and increasing your sales. I encourage you to check out the full list of apps to see how many there are… and what they can do for your business. 
5: Pricing is fair and reasonable 
Compared to other e-commerce solutions, Shopify is very reasonable when it comes to pricing and fees. They have three different tiers of pricing to suit all types of stores depending on their size and expected growth. They also have a "trial" plan that costs $15 a month. Even the basic level comes with awesome features including the ability to add an unlimited amount of products, tools to create discount codes to give to customers, and of course free 24/7 support. If you take a look at other ecommerce platforms such as Volusion – they only give you the option to add 100 products with their basic plan, and you can only contact their support team online, not over the phone. Below is a picture of the three main payment tiers of the Shopify platform, so you can see the price difference between each one. If you want to see a full list of all the features that come with each plan, go ahead and check out the Shopify pricing page.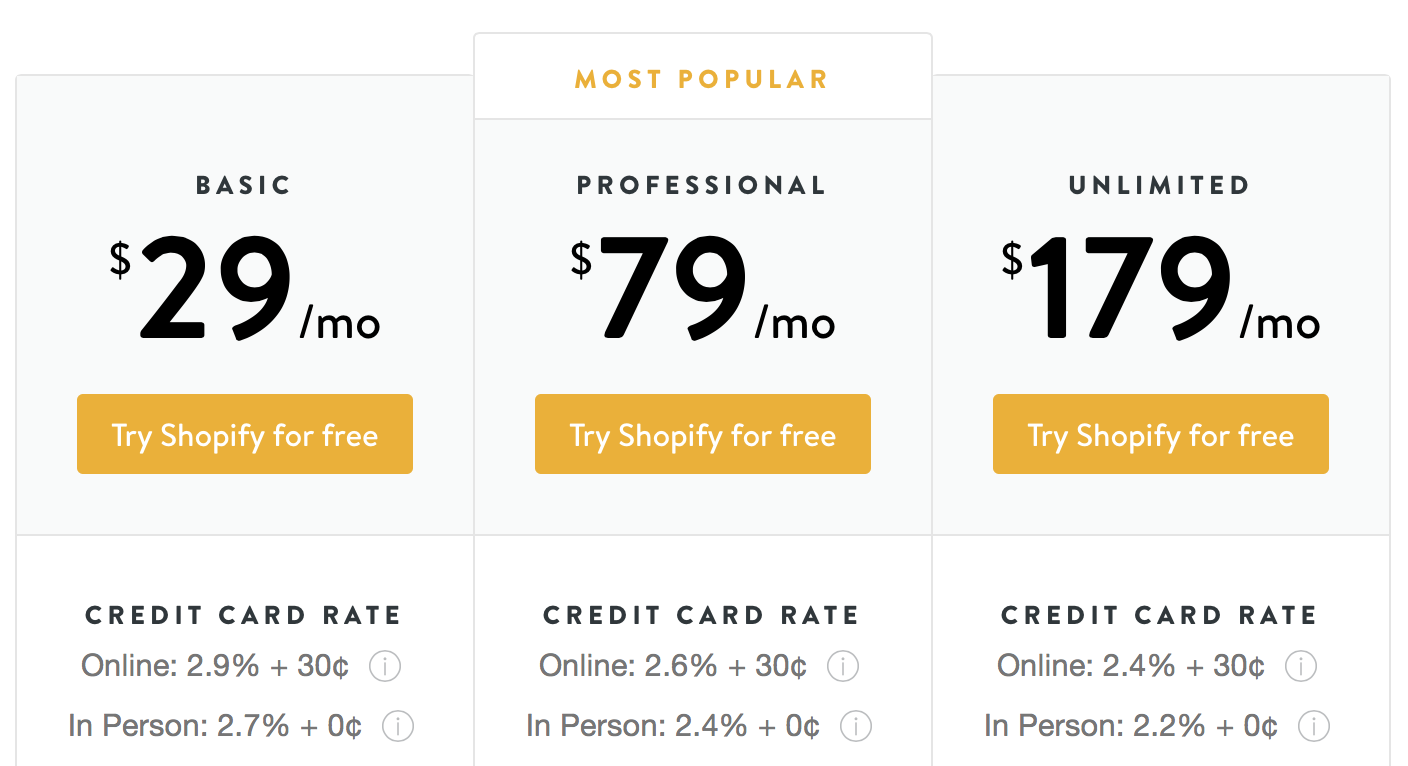 The benefits of using Shopify are clear, and the best part is that it doesn't cost a dime to get started – they give you a free 14 day trial just for signing up! Check out the full benefits of Shopify and read the comprehensive Shopify review here, or click on the banner below to get started with your free trial!